Happy Holidays from Lakes Environmental!

Our entire staff would like to thank you, our clients and subscribers, for a successful 2020. Best wishes to you for a wonderful holiday season and a happy and healthy New Year. It's because of you that we love doing what we do! We look forward to working with you in 2021!
| | |
| --- | --- |
| December 24-25 | Closed |
| December 28 | Closed |
| December 29-30 | Open |
| December 31 | Closed |
| January 1 | Closed |
Many of our staff continue to work remotely as we continue to do our part to curb the spread of COVID-19. During this time, our primary means of communication will be through e-mail.
For days when our offices are open, questions related to the purchase of software, maintenance, training, or met data, should be sent to sales@webLakes.com. For technical support, please email support@webLakes.com.
The Privacy Tools You Must Have for Secure Remote Consultations
No more private conversations
| | | |
| --- | --- | --- |
| One of the major pitfalls of the shift to remote digital operations is losing the ease and privacy of being able to speak with clients face-to-face behind closed doors. Today, consultations require a phone call or video conference, both which are just too easy for hackers to break into because the call or conference providers simply do not have the security infrastructure to keep them out. And if they do, there is no guarantee that the provider themselves are not listening in on your calls. | | |
While the name Tauria may not be the first company you think of as providing truly secure video conferencing or communication solutions for your remote work and digital operations, it will be after you read this.
Tauria is the world's first fully encrypted, all-in-one communication platform that ensures the security and privacy of user data. Unlike popular tools on the market today which focus on a single component of digital communications, Tauria combines the capabilities of a video conferencing tool, messaging platform, file storage vault, and scheduling calendar in one secure cloud-based solution.
The privacy you need
At its core, Tauria employs unparalleled encryption and security protocols. The platform's true no knowledge end-to-end encryption means that whether your information is sitting in an inbox ("at rest") or being sent to the recipient ("in transit"), it is fully encrypted and always locked on each end.
To learn more about making your work communications secure, read here and sign up for a free trial today. Also we are now offering free 45 minute calls, click here to begin using Tauria now.
Online CALPUFF Course – Jan 26-27, 2021 - Space Filling Fast!

Our team will present 2 days of online CALPUFF training on January 26 and 27, 2021 from 8:30am to 5:00pm (Central Time). The same great course, now from the convenience of your home or office!
Space is limited. Register early!
Online AERMOD Course – Feb 16-17, 2021

Our January online AERMOD course sold out fast! Don't miss out on our next 2-day online AERMOD course taking place on February 16 and 17, 2021 from 8:30am to 5:00pm (Central Time).
Register and pay today before space is gone!
Note: Due to the immense popularity of our online courses and small class sizes, we recommend registering and making payment as soon as possible.
Online AERMOD Course with CASANZ – Feb 23-26, 2021

Together with the Clean Air Society of Australia & New Zealand (CASANZ), we will hold an online AERMOD air dispersion modeling course. Training will take place in four, 4-hour webinars from February 23 to 26, 2021 from 11:00am to 3:00pm (AEDT).
Be sure to register early!
Note: The above course will be based specifically on regulations for the Australia/New Zealand region.
UPCOMING COURSES

MODELING TIP
Working with Labels
When working with Lakes Environmental Software applications, the drawing area affords users a lot of flexibility in how they add and visualize their project components. One way for users to make sense of the objects is to include object labels. These are controlled via the Labels tab on the Tree View.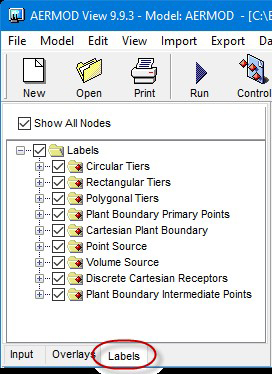 From this tab, users can control which labels are displayed in the main drawing area. There are several important features to this tab:
The master Labels checkbox must be selected in order for any labels to be shown.


The Show All Nodes feature applies to object types that may contain a lot of individual components (e.g., discrete receptors). By selecting this option, labels for every object will appear instead of limiting the labels to the first 1000 objects.
Right-click anywhere in the tab to pull up the context menu options. The Allow Labels to Overlap option is enabled by default but can make visualization difficult when there are many objects. Uncheck this to allow the application to only display a few labels at a time.


Each object's label can be controlled individually. Expand the object type to see each model object. You can then enable (check) or disable (uncheck) individual objects you do not want to display. In the example below, certain building tier labels have been disabled since they all represent a single structure.


The look of the labels can also be customized through the Graphical Options settings. Either use the Label Options selection from the context menu or click the Options tool button and scroll to the Labels settings. Selections include the font, size, color, and placement.



ENVIRONMENTAL NEWS ARTICLES
Trees Can Help Slow Climate Change, But at a Cost
December 1, 2020 - Widespread forest management and protections against deforestation can help mitigate climate change – but will come with a steep cost if deployed as broadly as policymakers have discussed, new research suggests.
Read more →
COVID-Related Emissions Drop "Just a Tiny Blip" in Long-Term Climate Trends
November 26, 2020- As nations went into lockdown to contain the spread of Covid-19, factories halted and cars sat idle, clearing the skies above polluted cities and sending climate-changing emissions to historic lows. But the concentration of greenhouse gases in the atmosphere ? the accumulation of past and current emissions ? remained virtually unchanged, according to the World Meteorological Organization's annual estimate.
Read more →
LAKES SOFTWARE GROUP OF COMPANIES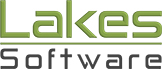 1-170 Columbia St. W.
Waterloo, ON N2L 3L3

View Online

This newsletter contains information gleaned from various sources on the web, with complete links
to the sources cited. Organizations cited are in no way affiliated with Lakes Environmental Software.

For more information, please visit our web site at: www.webLakes.com.
All comments and suggestions are welcome. You can e-mail us at: support@webLakes.com.
Privacy Policy