SLAB View can be an excellent choice for modelers needing to assess impacts and predict hazardous zones resulting from accidental releases. In addition to its easy-to-use source term and input wizard, SLAB View presents high-resolution graphical output in both 2D & 3D so modelers can quickly see how the release develops over time and what the total footprint of the release will be.
One important part of SLAB View is defining the release chemical. The application has a built-in Chemical Database containing properties of nearly 250 unique chemicals. Users may still need to add their own chemicals or mixtures. Follow the steps below to add your own User Defined chemicals to SLAB View.
Step 1: Open the Chemical Database. This can be done from the Data | Chemical Database menu or by clicking the Chem button on the main tool bar.

Step 2: The Default database shows the list of chemicals already included. To search the database, first select the column of the field you want to search like Chemical Name or CAS #. Type in your query in the Search field, and the Database will jump to a close match.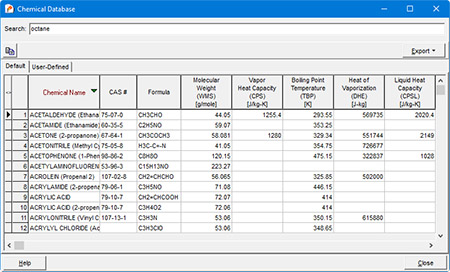 Step 3: If the chemical or mixture is not present, select the User Defined tab to add your own custom information.
Step 4: To add an individual entry, click the Add button to open the Add Chemical dialog.
Best effort to obtain useful and accurate results for each chemical property should be taken, though it should be noted that all literature does not agree on some values.
Step 5: To add multiple chemicals, a template can be prepared and imported into the Database using the Import button. Files can be imported in XML or Text (semicolon delimited) format. The parameter values should be listed in the same order as the order of columns in the Chemical Database.