In addition to calculating air concentrations of pollutants, the AERMOD air dispersion model can calculate deposition fluxes from both particulate and gaseous emissions. When these routines are enabled, deposition parameters must be input to the model.
In Lakes Environmental's AERMOD View application, these parameters are input via the Source Pathway's Gas & Particle Data settings.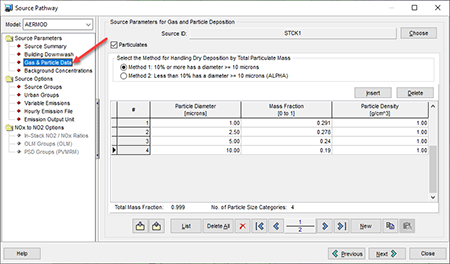 Sample Gas & Particle Data Inputs in AERMOD View
While parameters can be input by hand for each source, projects with many sources may be better served to have the data imported. This process can be accomplished by importing a simple Excel spreadsheet.
Included with AERMOD View are several template spreadsheets for importing project data. These are loaded into the C:\Lakes\AERMOD View\Templates folder. For deposition data, the Source-Gas-Particle.xls sheet can be used. The spreadsheet consists of several different input columns:
Type: Define the depositional routine to be modeled.

PARTM1: Method 1 particle deposition, a regulatory default option
PARTM2: Method 2 particle deposition, a non-default option designed for fine particulate emissions
GAS: Gaseous deposition

Source ID: Set the unique Source ID for the specified parameters. This value is repeated for as many rows as are needed to define the required deposition inputs.
Particle Diameter: For Method 1 or Method 2 deposition, set the maximum diameter for each particle class size.
Mass Fraction: Define the mass fraction of the specified diameter category. This value must be between 0 and 1 with the cumulative mass fraction summing to 0.98-1.02 (100% +/- 2%).
Particle Density: For Method 1 only, the density (g/cm3) of the diameter category.
Diffusivity Air / Diffusivity Water / Cuticular Resistance / Henry's Law: Gaseous deposition parameters required by the model.
The sample image below shows Method 1 particle deposition inputs for 2 separate sources.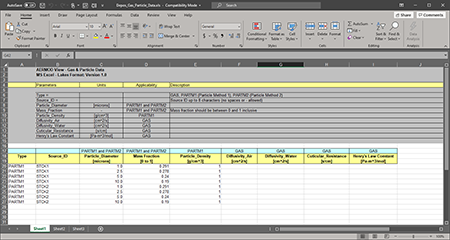 Lakes Environmental's Gas & Particle Data Spreadsheet Template
Once the spreadsheet is complete, it can be imported into AERMOD View using the Import icon on the Source Pathway Gas & Particle Data settings.