The CALPUFF model allows users to specify receptors in two different formats:
Gridded Receptors are defined as the Sampling Grid in which receptor locations are defined by the Meteorological Grid dimensions and extents.
Discrete Receptors are located based on user-defined coordinates for each individual receptor.
When post-processing results from the CALPUFF model using the CALPOST post-processor, users can choose only a subset of the receptors modeled by CALPUFF. This gives modelers flexibility by allowing them to post-process results for specific locations without running the entire dispersion model again.
CALPUFF View contains special tools to allow users to easily define which receptors to process in CALPOST. By default, the checkboxes next to the Gridded and Discrete fields are checked meaning all modeled receptors will be processed.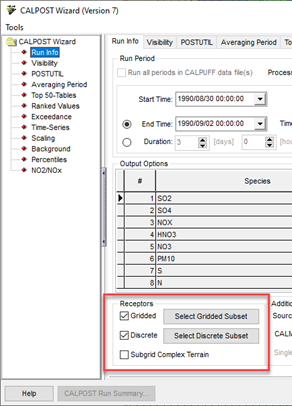 CALPUFF View's CALPOST Wizard Receptors Selection
To process fewer receptors, modelers should choose the Select Gridded Subset or Select Discrete Subset buttons to define the receptors to process.
Gridded Receptors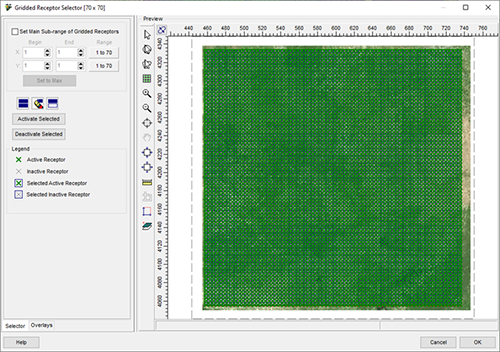 Gridded Receptor Selector Utility
When you first open the Gridded Receptor Selector dialog, all receptors are displayed as active.
Step 1: Define the largest sub-range of receptors you wish to process. No receptor outside this range will be processed. There are two ways to do this:
Numerically: Check the Set Main Sub-range of Gridded Receptors box. Type in the values for the X and Y receptors with which to Begin and End the range. Click the Set to Max button to include all sampling grid receptors in the main sub-range.




Graphically: Select the tool. Click inside the model domain, then drag the mouse holding down the left button to specify a rectangular sub-range.
After you define the main sub-range, any receptors that were previously defined that fall outside this range will be ignored, as if they do not exist. You can re-define the main sub-range at any time to include more or fewer receptors.
Step 2: Once the main sub-range has been defined, you can use the following tools to select receptors and activate/deactivate them to create a custom receptor set:

Discrete Receptors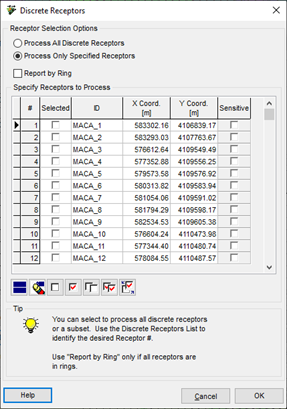 Discrete Receptor Selector Utility
Select the Process Only Specified Receptors radio button to choose which discrete receptors will be processed by CALPOST. Receptors are presented in a list based on the order they are listed in the Discrete Receptors dialog back in the main interface. Use the available controls to select or deactivate each receptor.