New AERMOD View Version Coming Soon!

As announced in the July edition of our newsletter, the U.S. EPA has announced revisions to the AERMOD air dispersion model and AERMET, its meteorological data preprocessor. The updated model executables have been published on the SCRAM website. This update replaces all previous versions (21112).
Lakes Environmental's team continues to work hard at implementing updates to AERMOD View, AERMET View, and the AERMOD parallel version (AERMOD MPI) to address the changes incorporated into Model Versions 22112.
We plan to release a new version of AERMOD View later this month. Be on the lookout for an email from Lakes Environmental announcing the new release.
If you are a user of AERMOD View but are no longer in maintenance, please contact our sales team at sales@webLakes.com for pricing to update your software and be eligible for this important new release.

AQMIS - Integrated Environmental Management and Analysis Platform Now Available as SaaS Model

We are pleased to announce that our fully integrated environmental management and analysis tool, AQMIS, is now available through a Software-as-a-Service (SaaS) model.
AQMIS SaaS provides businesses the high performance, stability, and ease of use that Lakes Software is well-known for. There is nothing for the user to download and install, meaning you're always using the latest version of the software!
AQMIS integrates all components of a successful environmental management program by providing centralized access to all the tools, features, and capabilities available in a single web application. AQMIS' modular framework enables users to add new modules at any time as their business needs change. The following modules are available:
Emissions Inventory
Ambient Air Monitoring
Air Dispersion Modeling
Future extension modules include:
Human Health Risk Assessment
Multi-Media Permitting and Compliance Assurance
Regardless of which modules you acquire, all versions come with the following powerful support modules:
Dashboards
GIS/Mapping
Reports
Systems Administration
Electronic Reporting
AQMIS SaaS allows customers to be up and running in a matter of minutes, in a fully managed system. Our AQMIS SaaS customers have reported significant cost savings, and the ability to complete complex projects in weeks instead of months. They also successfully grew their businesses by attracting new customers by offering advanced features and benefits to their clients that no other software solution can provide.
Contact our team today for information on pricing options available!
AQMIS Webinar – Air Quality Real-Time Forecasting

On Wednesday, September 7th, our senior subject matter experts will present a free webinar to discuss how clients are using the artificial intelligence system in AQMIS to forecast air quality.
Register now for one of the webinar times on September 7:
For more information on our upcoming webinars and to view our past webinar recordings, please visit our website.
Online CALPUFF Course – Sep 27-28, 2022 - Only 1 Spot Left!

Don't miss out on our next available 2-day online CALPUFF course taking place on September 27 and 28, 2022 from 8:30am to 5:00pm (Central Time – Dallas, USA). The same great course, now from the convenience of your home or office!
Space is limited. Register today!
Online AERMOD Course – Oct 18-19, 2022 - Spots are Filling Fast!

Registrations are already rolling in for our 2-day online AERMOD course taking place on October 18 and 19, 2022 from 8:30am to 5:00pm (Central Time – Dallas, USA).
Don't miss out! Register today!
Lakes Environmental Closed for Labour Day Holiday
Lakes Environmental's offices will be closed on Monday, September 5, 2022 to observe the Labour Day holiday. If you have any needs during that time, please e-mail us at support@webLakes.com and we will contact you on Tuesday, September 6, 2022, when our offices reopen.
UPCOMING TRAINING COURSES

MODELING TIP
Graphical Options: Plot Colored Contour Lines
When conducting an air dispersion modeling analysis, the ability to present high-quality graphical depictions of the output is extremely important. Such images provide context to modeled results, and they provide a valuable tool to modelers in understanding and explaining the model's calculations.
Lakes Software's wide range of air quality modeling products – such as AERMOD View, CALPUFF View, and more – all feature easy-to-use graphical tools and options so users can customize each project's output display to suit their needs. These options can be accessed via the Graphical Options button on the main toolbar or a button in the Annotation Toolbar.


Graphical Options in AERMOD View


Annotation Toolbar
Graphical Options cover a wide range of settings including:
Contour depiction for model output and terrain elevations;
Define the axis labels, scale, and display of the model domain;
Set colors of individual objects;
Choose how object labels are placed and how they look;
And more!
When contours are plotted in Lakes' commercial software products, the applications automatically set the levels based on the data distribution presented by the model. For example, concentration contours are set using the maximum modeled concentration as the highest level and the minimum non-zero concentration as the lowest level. This can result in contours which cover almost the entire display.
While the default contours are filled, users may want to customize the actual contour lines. This can be done easily within Graphical Options by following these simple steps:
Step 1: Open the Graphical Options window by selecting the Graphical Options button from the main menu bar.

Step 2: Select Smoothing from the Contours options group.

Step 3: In the Contour Lines group, enable the check box for the "Use Contour Level Colors" option.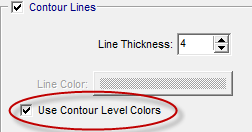 The new contour plot will match the color of the line to the color of the contour level.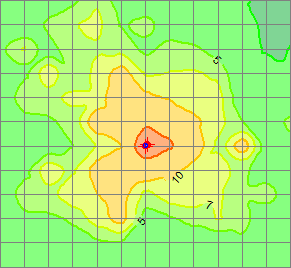 To plot only the colored contour lines, select Levels from the Contours options group of the Graphical Options window and change the Shade Style to None.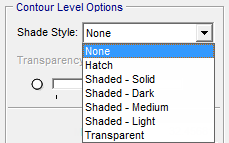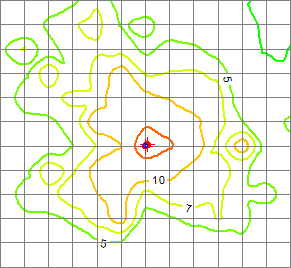 ENVIRONMENTAL NEWS ARTICLES
Tonga Eruption Blasted Unprecedented Amount of Water into Stratosphere
August 2, 2022 - The huge amount of water vapor hurled into the atmosphere, as detected by NASA's Microwave Limb Sounder, could end up temporarily warming Earth's surface.
Read more →
A July of Extremes
August 2, 2022 - In the United States, pervasive and persistent heat domes put more than 150 million people under heat warnings and advisories in the month of July.
Read more →
UPCOMING CONFERENCES
2022 Conference Schedule
Guideline on Air Quality Models – Developing the Future
September 13-15, 2022 | Durham, North Carolina
Air & Waste Management Association Ontario Section's 2022 Next Generation Ambient Air Monitoring Conference
September 13-14, 2022 | London, ON
Symposium Air & Odeurs Montréal 2022
October 26-27, 2022 | Montréal, Quebec
LAKES SOFTWARE GROUP OF COMPANIES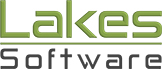 1-170 Columbia St. W.
Waterloo, ON N2L 3L3

View Online

This newsletter contains information gleaned from various sources on the web, with complete links
to the sources cited. Organizations cited are in no way affiliated with Lakes Environmental Software.

For more information, please visit our web site at: www.webLakes.com.
All comments and suggestions are welcome. You can e-mail us at: support@webLakes.com.
Privacy Policy