One feature of the CALPUFF model is the ability to depict coastal interaction effects. Since the land surface can heat more rapidly than adjoining water, a Thermal Internal Boundary Layer (TIBL) can form and bring elevated source plumes close to the ground. This sets up a potential coastal fumigation scenario, which is illustrated in the figure below.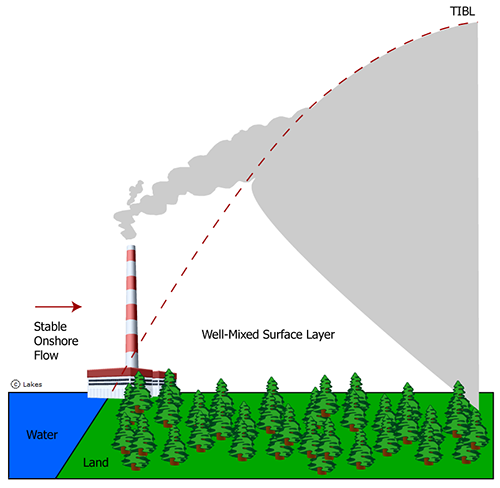 In order for the model to accurately depict the TIBL at a sub-grid scale (i.e., within a single grid cell), the user must define the line which divides the land and water surfaces. Accurate depiction of this coastline boundary is necessary since CALPUFF's internal mechanism can only be run when the grid cell is over the appropriate land use (overland bordering water).
To support accurate coastline depictions, Lakes Software's CALPUFF View includes the capability to download high-resolution coastline data via the WebGIS database. Data is derived from the Global Self-Consistent, Hierarchical, High-Resolution Geography Database (GSHHG) maintained by University of Hawai'i and the National Oceanic and Atmospheric Administration (NOAA).
The current version of CALPUFF View supports the latest available release of the GSHHG database – Version 2.3.7 – for projects utilizing the Version 7 & 7.3 CALPUFF modeling systems.
To download the data in your project, follow the steps below:
Step 1: Set up a CALPUFF View project or open an existing project.
Step 2: Open the Coastlines dialog via the CALPUFF menu.
Step 3: Click the WebGIS button to download the GSHHG data.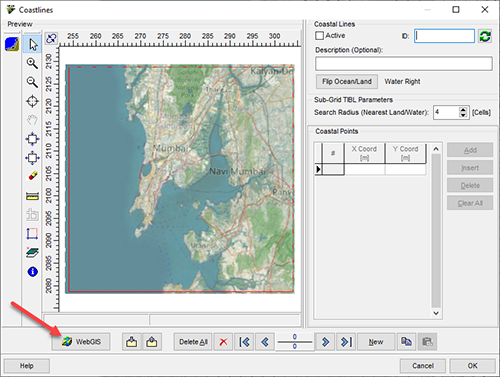 Note that this same process can be completed via the Import | Coastlines | From WebGIS menu option.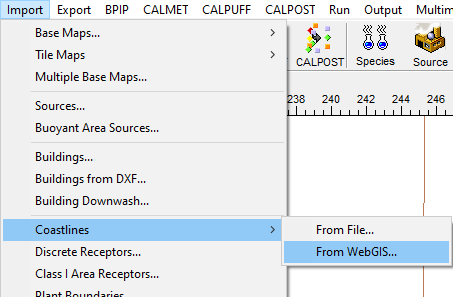 Step 4: Select the extents around which you want to import coastline data. Choose between a user-defined radius extending from all sources or over the entire meteorological grid.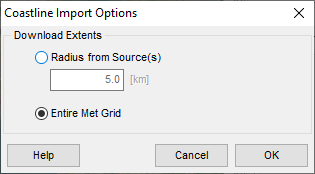 Step 5: Visually verify the downloaded coastline. The line drawn in CALPUFF View will depict which side represents water (blue) and which side represents land (brown).
Note that you can have up to 10 separate coastlines in a project. For very complex lines, you may have to eliminate coasts drawn around small portions of land that would not induce fumigation effects.
Click OK when you are ready to proceed.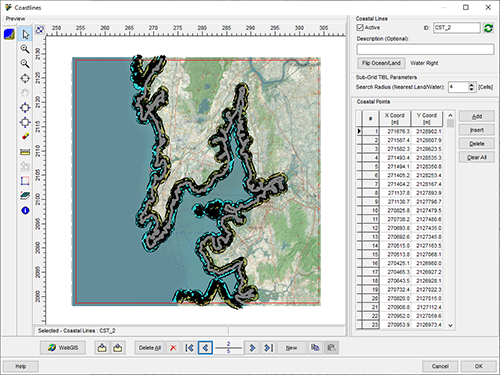 When the CALPUFF model is executed, the sub-grid TIBL processing routine will be automatically enabled.