A&WMA Annual Conference and Exhibition
Lakes Environmental Teaching Professional Development Courses at 2022 A&WMA Conference

The Air & Waste Management Association will be offering a variety of high-quality professional development courses on June 26 and 27, 2022 just prior to the annual conference in San Francisco.
As in previous years, we will present a one-day course on AERMOD Air Dispersion Modeling and a one-day course on Puff Dispersion Modeling. Additional details regarding these courses can be found below.
Online AERMOD Course – July 19-20, 2022 - Space Filling Fast!

Our team will present 2-days of online AERMOD training on July 19 and 20, 2022 from 8:30am to 5:00pm (Central Time UTC-6).
Don't miss out! Register today!
Note: Due to the immense popularity of our online courses and small class sizes, we recommend registering and making payment as soon as possible.
In-Person AERMOD Training Course in Dallas, Texas – Sep 20-21, 2022

Our first in-person training course in two years will take place this fall! Join us for 2 days of AERMOD training in Dallas from September 20 to 21, 2022.
This course will include a special 1-Hour NO2 NAAQS case study and a WRF case study for each student's desired location.
Early registration discounts are available only until August 19, 2022. Register Today!
Course:

AERMOD (September 20-21, 2022)

Register

Discount:

Ends August 19, 2022

Location:

Contact:
Lakes Environmental Closed for Victoria Day Holiday
Lakes Environmental's offices will be closed on Monday, May 23, 2022, to observe the Victoria Day holiday. Our Dallas support office will remain open on this day. If you have any support needs during that time, please e-mail us at support@webLakes.com Any sales inquiries will be responded to when our offices reopen on Tuesday, May 24, 2022.
UPCOMING TRAINING COURSES

MODELING TIP
Using Flagpole Receptors in AERMOD
Air dispersion models are only capable of calculating concentration at specific locations. These locations are called receptors. In the U.S. EPA's AERMOD air dispersion model, concentration calculations at each receptor are done at the ground level as opposed to some height above ground. For this reason, output from the AERMOD model is often referred to as "Ground Level Concentrations" (GLCs).
The model does have the capability of measuring concentration at some height above ground, using the Flagpole Receptor Heights option. One example of using a flagpole receptor height is to calculate concentration at an average breathing height (e.g., 1.5 meters). To add flagpole heights to receptors in AERMOD View follow these simple steps:
Step 1: Open the Receptor Pathway options.
Step 2: In the Receptor Summary, select Yes for the Flagpole Receptors option. You can also specify a Default Height above ground for all receptors. The Default Height value is used on every receptor where a unique height is not specified.
Step 3: Select the receptor type (e.g., Uniform Cartesian, Discrete Cartesian, etc.) and apply a height.
To add a flagpole height to a specific discrete receptor, enter the desired height in the Flagpole Heights [m] (Optional) column of the Discrete Cartesian receptor options.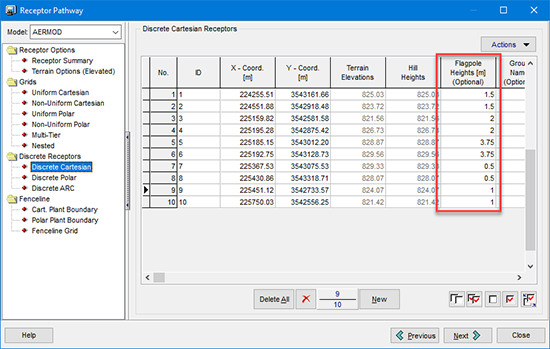 To add a flagpole height to a receptor within a gridded network, select the grid and click the button. Fill in the desired heights in the grid window. Entire rows can be selected using the Mark icon ().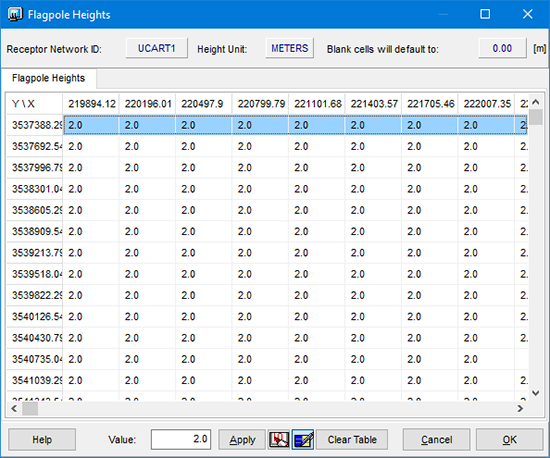 ENVIRONMENTAL NEWS ARTICLES
Satellite Images Show Disappearance of Iconic Canadian Glacier
May 5, 2022 - The Peyto Glacier in Canada's Banff National Park has shrunk by around 70 percent over the last half-century, a dramatic change highlighted in newly released satellite imagery from NASA.
Read more →
NASA Simulation Suggests Some Volcanoes Might Warm Climate, Destroy Ozone Layer
May 2, 2022 - While the ozone loss was not a surprise, the simulations indicated the potential magnitude of the destruction.
A new NASA climate simulation suggests that extremely large volcanic eruptions called "flood basalt eruptions" might significantly warm Earth's climate and devastate the ozone layer that shields life from the Sun's ultraviolet radiation.
Read more →
UPCOMING CONFERENCES
2022 Conference Schedule
Air & Waste Management Association's 115th Annual Conference & Exhibition
June 27-30, 2022 | San Francisco, CA | Booth #304
Guideline on Air Quality Models – Developing the Future
September 13-15, 2022 | Durham, North Carolina
Air & Waste Management Association Ontario Section's 2022 Next Generation Ambient Air Monitoring Conference
September 13-14, 2022 | London, ON
LAKES SOFTWARE GROUP OF COMPANIES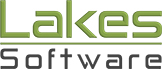 1-170 Columbia St. W.
Waterloo, ON N2L 3L3

View Online

This newsletter contains information gleaned from various sources on the web, with complete links
to the sources cited. Organizations cited are in no way affiliated with Lakes Environmental Software.

For more information, please visit our web site at: www.webLakes.com.
All comments and suggestions are welcome. You can e-mail us at: support@webLakes.com.
Privacy Policy