CALPUFF View Version 10.0 Released

Earlier this month, we released CALPUFF View Version 10.0. This release includes the following updates:
New Ranked Values Grid: Data generated by CALPOST's Ranked Values settings can now be displayed in a table which includes CSV export.
New Top-50 Table Viewer: A new data visualization dialog was created for output from CALPOST's Top 50 Tables selection. This tool works using Top 50 data from any CALPOST List file including those created outside CALPUFF View.
Wind Component Display: Modelers can now plot the U, V, & W wind components as part of the CALMET.DAT Tree View.
Processor Selection: When executing CALMET with the Multi-Processor Options, users can now choose the exact number of processors to employ.
Check out our latest release notes for a detailed listing of CALPUFF View updates.
If you are currently in maintenance for CALPUFF View and did not receive an email regarding this update, please contact us at support@webLakes.com.
If you are a user of CALPUFF View but are no longer in maintenance, please contact our sales team at sales@webLakes.com for pricing to update your software and start using this important new release!
2023 International Emissions Inventory Conference
Our team will be in Seattle, Washington from September 26 to 29 for the U.S. EPA 2023 International Emissions Inventory Conference.




Lakes Environmental is proud to be both a sponsor of the conference and an exhibitor. Drop by our booth to learn more about our AQMIS environmental management solution that integrates emissions inventory, ambient monitoring, modeling, and risk into a single web application designed for regulatory agencies, consultants, and industry to streamline environmental permitting and compliance.
You can also enter a drawing to win a FREE 1-year copy of our AERMOD View air dispersion modeling software!
Visit the conference website today to register for this important event.
Promoting Environmental Justice with AQMIS SaaS

Every individual deserves to breathe clean air and enjoy a safe environment, regardless of where they live. Yet, countless communities find themselves at the frontlines of air pollution and environmental disparities. Here's where Lakes Environmental's AQMIS SaaS air quality management solution comes into play.
Empowering Environmental Justice Advocates
With our cutting-edge AQMIS SaaS, you're not just getting a tool; you're acquiring a powerful ally in the fight for environmental justice. AQMIS provides:
Comprehensive Air Quality Insights: Obtain real-time, accurate air quality data to spot environmental inequalities swiftly and efficiently.
Evidence-Backed Advocacy: Present compelling, data-driven reports that push for impactful policy changes, targeting pollution hotspots that often affect vulnerable communities the most.
Empowering Users of All Experience Levels: AQMIS makes it possible to conduct complex air quality studies with a single mouse click, saving valuable time and money.
Communities Taking Charge
AQMIS SaaS isn't just for scientists or policymakers. We've made sure it's user-friendly so communities can:
Interact with Real Data: Understand and visualize the air quality challenges specific to your neighborhoods through intuitive data visualization tools.
Hold Polluters Accountable: Equipped with AQMIS data, communities can challenge industries that compromise their air quality, ushering in necessary changes and sustainable solutions.
A Cleaner Tomorrow Starts Today
Lakes Environmental's AQMIS SaaS is more than software; it's a movement towards a cleaner, more equitable future. Together let's bridge the gap between awareness and action.
Reach out to our dedicated team now, and let's champion environmental justice together.
Online AERMOD Training Course – Dec 12-13, 2023

Don't miss out on our 2-day online AERMOD course taking place on December 12 and 13, 2023 from 8:30am to 5:00pm (Central Time – Chicago, USA).
Register now before space is gone!
Note: Due to the immense popularity of our online courses and small class sizes, we recommend registering and making payment as soon as possible.
Just Announced – New Online AERMOD and CALPUFF Courses!
We're pleased to announce the following upcoming Online AERMOD and CALPUFF Air Dispersion Modeling Courses. Join us for world class training from the convenience of your own home or office with our senior level air quality experts!
Online registration is available now. Our online courses sell out quickly! We recommend registering and making payment as soon as possible.
Lakes Environmental Closed for Canadian Thanksgiving Holiday
Lakes Environmental's Waterloo office will be closed on Monday, October 9, 2023 to observe the Canadian Thanksgiving Holiday. Our Dallas office will remain open on this day. If you have any needs during that time, please e-mail us at support@webLakes.com and we will respond to your inquiry as soon as possible
UPCOMING TRAINING COURSES

MODELING TIP
CALPUFF View's New Top 50 Table Viewer
The CALPOST program is a powerful postprocessor used to average and report results based on data in the CALPUFF model output files. Because CALPOST's operations are external to CALPUFF, modelers can perform many different operations without needing to re-run CALPUFF just to see additional averages or analyze impacts in a different way.
Much of the data calculated or produced by CALPOST is written to an output List File (*.LST). This ASCII text file can be quite large depending on what selections are made in CALPOST, and this can make the process of locating specific output values difficult.
With the release of CALPUFF View Version 10.0, Lakes Environmental has added several new display tools to help modelers better understand their results. One of these tools is the Top 50 Table Viewer.
Utilizing the new tool starts with including Top 50 output in the CALPOST selection. In CALPUFF View, this is done via the CALPOST Wizard's Top 50-Tables tab. Top 50 output can be selected for each species and output type (concentration or deposition flux).


Top 50-Tables tab in CALPUFF View's CALPOST Wizard
After successfully executing CALPOST, go to the Tools | Top-50 Table Viewer menu option to access the tool.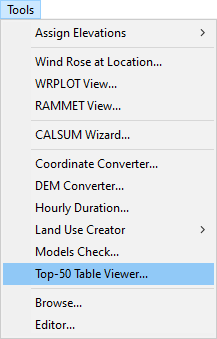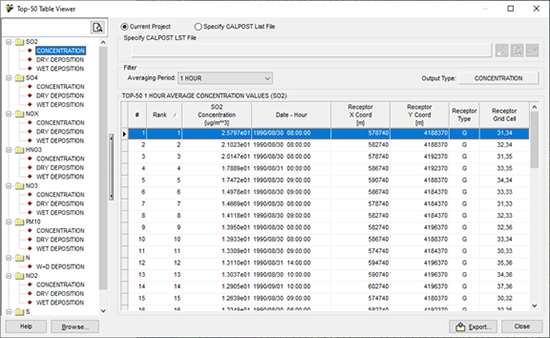 In addition to giving users a graphical view of the Top 50 data, there are several important features to aid in the data visualization and analysis:
The Top 50 Table Viewer can be used on any CALPOST List File including those not created using CALPUFF View. To analyze an externally generated CALPOST list file, select the Specify CALPOST List File radio button and select the file from your computer.
When assessing results from an open CALPUFF View project, all available species and output types are shown in a data tree panel on the left side of the dialog.
Data from each averaging period for the selected species is shown in a separate table using the Averaging Period drop-down menu.
The data tables can be sorted by column so that users can easily sort their data for analysis.
Tables can be exported to CSV format using the button.

ENVIRONMENTAL NEWS ARTICLES
Embodied Carbon in Buildings: A New Frontier in Greenhouse Gas Reduction
September 6, 2023 - How we reduce CO2 emissions in the built environment is changing – with focus moving from energy efficiency to reducing embodied carbon, according to UNSW's Philip Oldfield.
Read more →
Researchers Find Antarctic Ice Shelves Thinner Than Previously Thought
September 1, 2023 - As global ice dams begin to weaken due to warming temperatures, a new study suggests that prior attempts to evaluate the mass of the huge floating ice shelves that line the Antarctic ice sheet may have overestimated their thickness.
Read more →
UPCOMING CONFERENCES
2023 Conference Schedule
2023 International Emissions Inventory Conference
Sep 26-29, 2023 | Seattle, WA
AWMA Specialty Conference - Environmental Justice: From Policy to Practice
Oct 23-24, 2023 | Arlington, VA
13th Conference on Air Quality Models
Nov 14-15, 2023 | Research Triangle Park, NC
LAKES SOFTWARE GROUP OF COMPANIES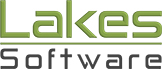 1-170 Columbia St. W.
Waterloo, ON N2L 3L3

View Online

This newsletter contains information gleaned from various sources on the web, with complete links
to the sources cited. Organizations cited are in no way affiliated with Lakes Environmental Software.

For more information, please visit our web site at: www.webLakes.com.
All comments and suggestions are welcome. You can e-mail us at: support@webLakes.com.
Privacy Policy