Lakes Environmental e-Newsletter
Climate Change - Emissions Inventory - Atmospheric Science - IT Solutions


In This Issue:
News & Events
Upcoming Courses
Modeling Tip: Calculating the New U.S. EPA 1-Hour Air Quality Standard for NO2
Articles
Upcoming Conferences & Trade Shows
News & Events
AERMOD View™ Version 6.5 Released on April 15, 2010
Lakes Environmental is pleased to announce the latest release of AERMOD View 6.5 on April 15, 2010.
AERMOD View Version 6.5 includes the following new features:
Support for the New Hourly US EPA NO2 Standard - AERMOD View has the ability to generate the new NAAQS NO2 standard (Read EPA Notice). For a detailed description of this option, view this month's Modeling Tip below.


Import/Export Sources from/to Excel Files - Sources can imported from and exported to a Microsoft Excel spreadsheet!


New AERMOD Parallel Version - A new version of MPICH2 has been added to the AERMOD MPI 2.1 installation.
If you are currently in maintenance and did not receive an e-mail regarding this update, please contact us at support@weblakes.com. If you are a user of AERMOD View but are no longer in maintenance, contact us for pricing at sales@weblakes.com.
Product Spotlight - CALPUFF View™ 4.0 - Released on April 6, 2010
Lakes Environmental is proud to announce the release of CALPUFF View Version 4.0 on April 6, 2010. Lakes Environmental's CALPUFF View software provides a Complete Air Modeling Management Solution for the CALPUFF Modeling system including the US EPA approved version 5.8 as well as the advanced version 6.0. Please see our latest release notes for a complete list of the new features available in version 4.0.
The new features available in CALPUFF View Version 4.0 were specifically added to remove barriers that commonly plague CALPUFF modeling projects resulting in missed deadlines, escalating costs, errors, and non-optimized modeling outcomes.  Common challenges or barriers to successful project completion include:
Limited data availability including land use, terrain, and meteorological data



Overly complicated pre- and post-processors



Number of non-intuitive and disconnected regulatory default options



Lack of defined steps and linked processes

View video
All of these factors unnecessarily overcomplicate the modeling process. CALPUFF View demystifies CALPUFF modeling by providing a highly organized and sequentially driven user experience. Data entry and modeling options are carefully organized and presented to the user in logical increments based on the task at hand and selection modeling options.
Powerful new features available in version 4.0 enable modelers of all skill levels to successfully:
Quickly Set Up Modeling Projects



Rapidly Acquire High Quality Data Inputs



Run Pre- and Post-Processors



Execute Modeling Runs



Perform Advanced Data Analysis



Visualize Results in 2D and 3D



Quickly Generate Quality Reports, Figures, and Maps



Efficiently Manage Project Files


In addition, CALPUFF View was specifically configured to make it easier than ever to follow new regulatory guidance for conducting long-range transport modeling in support of completing New Source Reviews or Prevention of Significant Deterioration (PSD) modeling.
If You Are New to CALPUFF Modeling System...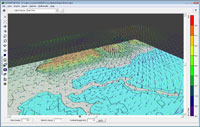 If you are new to CALPUFF modeling, there has never been a better time to get started.  CALPUFF View was developed with new users in mind to virtually eliminate all the obstacles to successfully set up and run a CALPUFF modeling project. 
With CALPUFF View, beginners can quickly define and visualize their project domain, automatically download terrain data, land use, and meteorological data.  Modeling options can be quickly selected based on the desired regulatory application to ensure recommended values and options are followed and documented during model execution. 
Lakes Environmental is also a world leader in providing CALPUFF Training solutions covering modeling theory, methodology, and practical hands-on application of our CALPUFF View modeling solution.
If You Are an Experienced CALPUFF Modeler...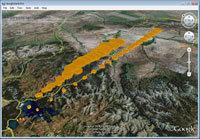 If you are an experienced CALPUFF modeler, you will instantly recognize the value of CALPUFF View, since you have firsthand experience with how difficult and time consuming it can be to acquire necessary data inputs, run pre- and post-processors, perform results analysis, prepare report ready tables, figures, and maps, and manage the numerous project files generated during completion of a modeling project. 
One of the most powerful features now available in version 4.0 is CALMET Parallel Processing which allows you to harness the full power of your multi-core computer.  Nothing is Faster!
Many features available in previous versions of CALPUFF View have been updated to increase performance and add new features.  Examples include:
Export to Google Earth, including both full project export as well as puff tracking animations



Automatic download of terrain and land use data, no matter what the project location worldwide, geo-processing has never been easier



A regulatory settings button, which will set all of the required parameters to their EPA recommended values



Nested receptor grids



An improved new project wizard
The Bottom Line Is...
Save Time, Money, and Significantly Improve the Value You Provide to Your Clients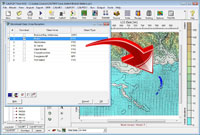 CALPUFF View 4.0 makes it easier than ever to utilize the powerful capabilities of the CALPUFF modeling system.  If your air dispersion project involves complex wind fields, long range transport, coastal effects, complex terrain, or requires sub-hourly times steps, CALPUFF View may be the right modeling system for you!
Contact us today to purchase or update your copy of CALPUFF View and experience the cost benefits and time savings that this advanced graphical user interface has to offer over other limited interface options. No other user interface offers so many powerful capabilities and productivity options within a single user friendly application.
Contact us at sales@weblakes.com for further details on CALPUFF View!
Back By Popular Demand!
AERMOD & CALPUFF Courses in Toronto and Waterloo
Lakes Environmental will be offering another 2-day AERMOD course in Toronto on June 7-8, 2010.

The Toronto course will be followed by a 3-day CALPUFF course at our offices in Waterloo on June 9-11, 2010.

Don't miss this opportunity! Contact us today to reserve your spot.


Lakes Environmental Offering CALPUFF Courses in the United States
Lakes Environmental is offering CALPUFF Courses in the United States. Last week, April 21-23, Dr. Jesse The', President of Lakes Environmental, was in Dallas, Texas, teaching a 2-day AERMOD course followed by a 3-day CALPUFF course.
Lakes Environmental's AERMOD and CALPUFF courses include a combination of theory and hands-on case studies using Lakes Environmental's advanced graphical user interfaces: AERMOD View and CALPUFF View.
During the 3-day CALPUFF Course in Dallas, students were able to start and finish 9 case studies which involved the geophysical pre-processing, meteorological pre-processing, and CALMET, CALPUFF, and CALPOST options. Here is a list of the case studies used:
Case 1: Class I Area using FLAG2000 options



Case 2: CALMET and CALPUFF modeling using prognostic met data (MM5)



Case 3: Modeling using a multi-tier grid and building downwash



Case 4: Coastal area modeling with Obs and TIBL



Case 5: Complex terrain modeling using MM5 4-km resolution



Case 6: Analyzing several TERRAD values for CALMET wind field



Case 7: Do-It-Yourself case study



Case 8: Odor modeling using area sources



Case 9: Breton Class I Area visibility analysis including PM speciation and FLAG2008 options using the MMS and VISTAS datasets.
The above list of case studies shows that using CALPUFF View results in a significant savings of time and resources. Everything in CALPUFF View is automated. Terrain, land use, meteorological files, and class I receptors are automatically downloaded for your modeling area.
Lakes Environmental is currently selecting the next location in the US for a CALPUFF course. If you are interested in attending a CALPUFF course near you, please contact us by e-mail at training@webLakes.com.
Lakes Environmental at CANECT 2010!
Lakes Environmental will be attending the Canadian Environmental Conference & Tradeshow, CANECT 2010 in Mississauga, Ontario from May 4-5, 2010.
Come and visit us at booth 1505 for demonstrations and information about our software products, as well as your chance to win a FREE copy of our AERMOD View software! To obtain conference information, please visit the CANECT website.
Upcoming Courses



See the listing below of our currently scheduled AERMOD and CALPUFF training courses in the US, Canada, and abroad.
Several new locations have been added including New York City and Hyderabad!
Date

Course

Location

Registration

June 7-8, 2010

June 9-11, 2010

Sept. 23-24, 2010

Oct. 14-15, 2010

Nov. 8-9, 2010
Nov. 10-12, 2010

Rio de Janeiro, Brazil

Registration Coming Soon!

Nov. 18-19, 2010

Dec. 6-7, 2010
Dec. 8-10, 2010

Hyderabad, India

Registration Coming Soon!
For more information on the above courses, including registration information, location, and course outlines, please visit our web site: https://www.weblakes.com/courses.html.
Modeling Tip
Calculating the New U.S. EPA 1-Hour Air Quality Standard for NO2
The U.S. EPA has implemented a new 1-hour standard for Nitrogen Dioxide (NO2) effective April 12th, 2010. This standard is 100 ppb based on the 3-year average of the 98th percentile of the annual distribution of daily maximum 1-hour concentrations.

This new standard cannot be calculated directly by the U.S. EPA AERMOD model and therefore the modeler needs to post-process the POSTFILE created by AERMOD in order to calculate this standard. In order to overcome this, Lakes Environmental implemented this post-processing within AERMOD View Version 6.5.
How the New NO2 Standard is Calculated in AERMOD View
Lakes Environmental's AERMOD View version 6.5 has an integrated post-processor that can perform the necessary calculations and present the results in a standard plot file format.

The user simply needs to select the option in the Output Pathway and specify the desired Source Group and file name. Once AERMOD is run, the NO2 results will be presented with the other results in the Plots tab.
New NO2 Standard Calculation Methodology
If you do not have Lakes Environmental's AERMOD View Version 6.5, you can calculatethe NO2 Standard in the following way:
Generate the 1-hour POSTFILE in AERMOD



Determine the highest 1-hour concentration for each day at each receptor



Of these daily maximums, determine the 8th highest (98th percentile) at each receptor for each year seperately



Average the values calculated in Step 3 across all of the modelled years, for each receptor individually



The highest of these values across all receptors should be compared against the 100 ppb limit
A complete description of the NO2 standard methodology can be found in the official U.S. EPA Notification.
Submit Your Modeling Tip Today!
We are currently accepting submissions for the Monthly Modeling Tip section that appears in our newsletters. If you have a modeling tip that may benefit our readers, please send it to us at support@weblakes.com. Your name and the name of your organization will appear below the tip providing you with an opportunity for increased exposure.
Articles
DOT, EPA Set Agrressive National Standards for Fuel Economy and First Ever Greenhouse Gas Emission Levels for Passenger Cars and Light Trucks
WASHINGTON (April 1, 2010) - Responding to one of the first major directives of the Obama Administration, the U.S. Department of Transportation (DOT) and the U.S. Environmental Protection Agency (EPA) today jointly established historic new federal rules that set the first-ever national greenhouse gas emissions standards and will significantly increase the fuel economy of all new passenger cars and light trucks sold in the United States. The rules could potentially save the average buyer of a 2016 model year car $3,000 over the life of the vehicle and, nationally, will conserve about 1.8 billion barrels of oil and reduce nearly a billion tons of greenhouse gas emissions over the lives of the vehicles covered.
Canada and the United States Announce Common Standards for Regulating GHG Emissions from New Vehicles
OTTAWA (April 1, 2010) - The Government of Canada today released tough new proposed regulations to reduce greenhouse gas emissions from new vehicles which would harmonize with the mandatory national standards of the United States beginning with the 2011 model year. Today's release of the proposed Passenger Automobile and Light Truck Greenhouse Gas Emission Regulations is the next step in the process that was announced by Environment Minister Jim Prentice in April 2009.
EU Emissions Data Shows 11 Percent Drop in 2009
(April 1, 2010) - Analysis of the data for 2009 from the EU Emissions Trading Scheme (ETS) suggests that EU emissions fell by 11% last year compared with 2008, in line with expectations and prompting a small burst of buying as speculators, who has sold EU allowances (EUAs) in betting on a bigger drop, moved to cover short positions.

Although incomplete - with an estimated 10% of data to come - market analysts agree that the final emissions number is likely to come in around 11% lower in 2009, leaving the EU ETS with a surplus of EUAs. Earlier this week, a survey of analysts by sister publication Carbon Finance found that estimates pointed to a 10% fall.
EPA Formally Announces Phase-in of Clean Air Act Permitting for Greenhouse Gases/Agency Reiterates No Stationary Source Requirements Until 2011
WASHINGTON (March 29, 2010) - Under a final decision issued today by the U.S. Environmental Protection Agency (EPA) no stationary sources will be required to get Clean Air Act permits that cover greenhouse gases (GHGs) before January 2011. EPA has pledged to take sensible steps to address the billions of tons of greenhouse gas pollution that threatens Americans' health and welfare, and is providing time for large industrial facilities and state governments to put in place cos-effective, innovative technologies to control and reduce carbon pollution. Today's announcement is the first step in EPA's phased in approach to addressing GHG emissions laid out by Administrator Lisa P. Jackson earlier this month.
Upcoming Conferences & Trade Shows
Date

Conference

Location

Apr. 27-29, 2010

Ambiental Expo 2010
More Info

Sao Paulo, Brazil

Apr. 28-29, 2010

32nd Motorship Propulsions and Emissions Conference
More Info

Hamburg, Germany

May 3-5, 2010

2010 Canadian Environmental Conference and Tradeshow (CANECT 2010) - NEW location at the International Centre in Mississauga! Lakes Environmental will be at booth 1505!
More Info

Mississauga, Ontario, Canada

May 10-14, 2010

A&WMA International Specialty Conference: Leapfrogging Opportunities for Air Quality Improvement
More Info

Xi'an, China

May 18-20, 2010

10th Annual ISA Fugitive Emissions-LDAR Symposium
More Info

San Antonio, Texas, USA

May 26-28, 2010

CARBON EXPO 2010
More Info

Cologne, Germany

Jun. 22-25, 2010

A&WMA 103rd Annual Conference and Exhibition
More Info - Lakes Environmental will be at booth 701!

Calgary, Alberta, Canada

Aug. 30-Sept. 2, 2010   

Power Plant Air Pollutant Control "MEGA" Symposium
More Info

Baltimore, MD, USA

Sept. 12-16, 2010

15th International Union of Air Pollution Prevention and Environmental Protection Associations' (IUAPPA) World Clean Air Congress
More Info - Lakes Environmental will be at booth 17!

Vancouver, BC, Canada

Sept. 27-30, 2010

19th International Emissions Inventory Conference
More Info - Lakes Environmental will be attending!

San Antonio, Texas, USA
About this Newsletter
This newsletter contains information gleaned from various sources on the web, with complete links to the sources cited. Organizations cited are in no way affiliated with Lakes Environmental Software.
Lakes Environmental Software is a leading environmental IT company that offers a complete line of air dispersion modeling, risk assessment, emissions inventory, and emergency release software as well as training and custom software services. With satisfied users located around the globe, Lakes Environmental Software will continue to revolutionize the environmental software field.
For more information please visit our web site at: www.weblakes.com. You may also contact us by phone at (519) 746-5995 or by fax at (519) 746-0793.
All comments and suggestions are welcome. You can e-mail us at: support@weblakes.com.
Please click the link below to subscribe or unsubscribe from this newsletter:
Subscribe/Unsubscribe