Lakes Environmental e-Newsletter
Climate Change - Emissions Inventory - Atmospheric Science - IT Solutions


In this issue:
News & Events
Upcoming Courses
Modeling Tip: Downloading NED Terrain Data
Articles
Upcoming Conferences & Trade Shows
News & Events
Lakes Environmental Releases AERMOD View™ Version 6.6
Lakes Environmental is proud to announce the immediate release of AERMOD View Version 6.6., the latest release of its most popular air dispersion modeling software. With the latest version of AERMOD View come new features including:
Support for SO2 National Ambient Air Quality Standards (NAAQS) - calculating the 3-year average of the 99th percentile of the annual distribution of daily maximum 1-hour average concentrations


Support for PM2.5 NAAQS – calculating the highest average of the maximum 24-hour averages across 5 years of data


Automatic BPIP Runs - automatically run BPIP when AERMOD is run
For a complete list of the updates and new features available in AERMOD View version 6.6, please see our latest release notes.
If you are currently in maintenance for AERMOD View and did not receive an email regarding this update, please contact us at support@weblakes.com.
If you are a user of AERMOD View but are no longer in maintenance please contact sales@weblakes.com to find out how you can get up and running on this latest release!



US EPA Memorandum on NO2 NAAQS
On June 28, 2010, the US EPA Air Quality Modeling Group released a memorandum which clarifies the applicability of current guidance in the Guideline on Air Quality Modeling for modeling NO2 impacts in accordance with the Prevention of Significant Deterioration (PSD) permit requirements to demonstrate compliance with the new 1-hour NO2 standard.
This memorandum can be reviewed on the US EPA's SCRAM website.
AERMOD Course in New York City - September 20-21, 2010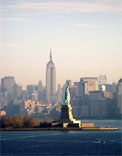 Lakes Environmental will be in New York City to present a 2-day AERMOD course from September 20-21, 2010.

Attending this course is the best way to stay current with recent regulatory and methodology changes. Lakes Environmental uses cutting edge tools that will revolutionize the way you do air dispersion modeling!

Visit our website for further details and register today! Early registration pricing is available until August 20, 2010.




Lakes Environmental at A&WMA 2010 Conference & Exhibition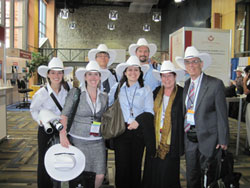 Lakes Environmental would like to thank everyone who stopped by our booth in Calgary at A&WMA's 103rd Annual Conference and Exhibition from June 22-24.  We hope you enjoyed your time at this year's conference and look forward to assisting you in your endeavors throughout the coming year.  See you in 2011 at A&WMA's conference in Orlando, Florida!

Visitors to our booth had the chance to participate in a draw for a free copy of our AERMOD View or CALPUFF View software packages.
We would like to take this opportunity to offer our congratulations to our AERMOD View software winner, C.C. from California and our CALPUFF View software winner, B.S. from Alberta. Happy modeling!
Our winners requested that their names and company names not appear in this Newsletter.
AUSTAL & ARTM Courses in Beijing, China
On July 6 to 8, 2010, Dr. Jesse The', president of Lakes Environmental, was in Beijing teaching a 2-day AUSTAL course and a 1-day ARTM course. Both courses included a combination of theory and hands-on case studies using Lakes Environmental's advanced graphical user interfaces: AUSTAL View and ARTM View.
The AUSTAL and ARTM air dispersion modeling courses courses were organized and promoted by our distributor in China, SinoCAN Intellitech.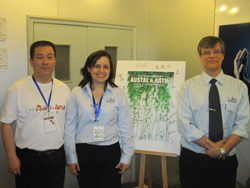 AUSTAL (AUSTAL2000) is a Lagrangian particle tracking air dispersion model and it is the official model for the German Federal Environmental Agency (UBA).
ARTM is the German Federal Office for Radiation (BfS) official model and it is the new standard for the dispersion and deposition calculation of airborne radioactive materials according to the German Nuclear Act. The ARTM model is based on the "TA Luft" and the "AUSTAL2000 model".
Course attendees were able to complete a series of case studies involving cooling tower modeling, odor modeling, and radiation modeling among others.
Lakes Environmental Closed Offices Closed on August 2nd
Lakes Environmental will be closed on Monday, August 2, 2010 to observe Ontario's Civic Holiday.  If you have any needs during that time, please e-mail us at support@weblakes.com and we will respond to your message on August 3, 2010 when our offices reopen.

Upcoming Courses
Date

Course

Location

Registration

Sept. 13-14, 2010

Sept. 20-21, 2010

Sept. 27-28, 2010
Sept. 29-Oct. 1, 2010

Oct. 14-15, 2010

Nov. 8-9, 2010
Nov. 10-12, 2010

Nov. 18-19, 2010

Dec. 6-7, 2010
Dec. 8-10, 2010

Hyderabad, India

Registration Coming Soon!
For more information on the above courses, including registration information, location, and course outlines, please visit our web site: https://www.weblakes.com/courses.html.
Modeling Tip
Downloading NED Terrain Data
The USGS National Elevation Dataset (NED) is the latest and most accurate source of elevation data in the US and is the recommended source of elevation data in the AERMOD Implementation Guideline. In our April eNewsletter last year we featured a modeling tip on how NED files can be downloaded from the USGS Seamless Server. A brief video tutorial detailing this process is available below.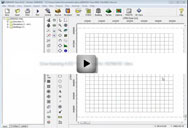 Submit Your Modeling Tip Today!
We are currently accepting submissions for the Monthly Modeling Tip section that appears in our newsletters. If you have a modeling tip that may benefit our readers, please send it to us at support@weblakes.com. Your name and the name of your organization will appear below the tip providing you with an opportunity for increased exposure.
Articles
EPA Proposal Cuts Pollution from Power Plants in 31 States and D.C. / Rule Would Reduce Smog- and Soot-Forming Emissions Contributing to Unhealthy Air
WASHINGTON (July 6, 2010) - The U.S. Environmental Protection Agency (EPA) is proposing regulations to cut air pollution that impairs air quality and harms the health of people living downwind. The regulation will target power plant pollution that drifts across the borders of 31 eastern states and the District of Columbia. Air pollution is linked to thousands of asthma cases and heart attacks, and almost 2 million lost school or work days. Along with local and state air pollution controls, the new proposal, called the transport rule, is designed to help areas in the eastern United States meet existing national air quality health standards.
EPA Addresses Subparts, Confidentiality
(June 29, 2010) - On June 29, the U.S. EPA made two announcements related to its mandatory Greenhouse Gas Reporting Program; the finalization of reporting requirements for four additional source categories under the GHGRP, and the issuance of proposed rulemaking for confidentiality determinations under the GHGRP. EPA Administrator Lisa Jackson signed the final GHGRP rule for the mandatory reporting of GHGs from magnesium production, underground coal mines, industrial wastewater treatment, and industrial landfills on June 28. According to the EPA, in addition to finalizing the reporting requirements for these four source categories in the GHGRP, the action also states EPA's final decision not to include ethanol production and food processing as distinct subparts in the GHGRP, as well as the final decision not to include suppliers of coal at this time. With these actions, the agency has now addressed all of the outstanding source categories and subparts that were included in the April 2009 proposal for the GHGRP. The four new source categories will be required to begin collecting emissions data on Jan. 1, 2011, and begin filing annual reports with the EPA on March 31, 2012.
Government of Canada to Regulate Emissions from Electricity Sector
OTTAWA (June 23, 2010) - Today, the Honourable Jim Prentice, Minister of the Environment, announced that the Government of Canada is taking action to reduce greenhouse gas emissions in the electricity sector by moving forward with regulations on coal-fired electricity generation.
"Today's announcement positions Canada one step closer to reaching its goal of being a clean energy superpower," said Minister Prentice. "A responsible, clear phase-out of the electricity sector's inefficient coal-fired generation will allow ample time for the implementation of cleaner generation technologies. This will create new jobs in the clean-energy sector, while helping Canada meets its commitment to greenhouse gas reductions."
Government of Canada Initiates Ratification of Stockholm Convention Amendments
(June 16, 2010) - The Honourable Lawrence Cannon, Minister of Foreign Affairs, and the Honourable Jim Prentice, Minister of the Environment, today announced Canada's intention to ratify the decisions made at the May 2009 Fourth Conference of the Parties (COP4) to the Stockholm Convention on Persistent Organic Pollutants (POPs) to add nine new chemical substances to the list of those subject to global controls. Minister Cannon tabled the amendments today in the House of Commons to signal the Government of Canada's commitment to ratifying the amendments.
Senate Rejects Move to Block EPA Regulations
(June 15, 2010) - On June 10, the U.S. Senate narrowly defeated a disapproval resolution introduced by Sen. Lisa Murkowski, R-Alaska, which would have prevented the U.S. EPA from regulating GHG emissions. All Republicans and six Democrats, representing Arkansas, Indiana, Louisiana, Nebraska and West Virginia, voted in favor of the resolution, but were defeated in a final vote of 47-53. Several senators mentioned the Gulf of Mexico oil spill as reason to vote against the resolution, but Sen. Mary Landrieu, D-La., said in a statement that linking the oil spill to the disapproval resolution was deceptive. "I co-sponsored the Murkowski resolution months before the Deepwater Horizon accident even happened and voted to approve it because the Clean Air Act is not the appropriate tool to address carbon emissions," she said. "That was true before the oil spill and it remains true today."
Upcoming Conferences & Trade Shows
Date

Conference

Location

Aug. 10-12, 2010

6th Australia-New Zealand Climate Change & Business Conference
More Info

Sydney, Australia

Aug. 30-Sept. 2, 2010   

Power Plant Air Pollutant Control "MEGA" Symposium
More Info


Baltimore, MD, USA

Sept. 12-16, 2010

15th International Union of Air Pollution Prevention and Environmental Protection Associations' (IUAPPA) World Clean Air Congress
More Info - Lakes Environmental will be at booth 17!

Vancouver, BC, Canada

Sept. 27-30, 2010

19th International Emissions Inventory Conference
More Info - Lakes Environmental will be exhibiting!

San Antonio, TX, USA

Oct. 25-26, 2010

Climate Change and Impact Assessment - IAIA Special Symposium
More Info

Aalborg, Denmark

Oct. 27-28, 2010

Carbon Forum Asia
More Info

Singapore

Nov. 2-4, 2010

Symposium on Air Quality Measurement Methods and Technology
More Info

Los Angeles, CA, USA

Nov. 7-11, 2010

SETAC North America 31st Annual Meeting
More Info

Portland, OR, USA
About this Newsletter
This newsletter contains information gleaned from various sources on the web, with complete links to the sources cited. Organizations cited are in no way affiliated with Lakes Environmental Software.
Lakes Environmental Software is a leading environmental IT company that offers a complete line of air dispersion modeling, risk assessment, emissions inventory, and emergency release software as well as training and custom software services. With satisfied users located around the globe, Lakes Environmental Software will continue to revolutionize the environmental software field.
For more information please visit our web site at: www.weblakes.com. You may also contact us by phone at (519) 746-5995 or by fax at (519) 746-0793.
All comments and suggestions are welcome. You can e-mail us at: support@weblakes.com.
Please click the link below to subscribe or unsubscribe from this newsletter:
Subscribe/Unsubscribe