Lakes Environmental e-Newsletter
Climate Change - Emissions Inventory - Atmospheric Science - IT Solutions


In this issue:
News & Events
Upcoming Courses
Modeling Tip: Minimum Requirements for AERMOD Surface Meteorological Data File
Articles
Upcoming Conferences & Trade Shows
News & Events
AERMOD & CALPUFF Courses in Las Vegas, Nevada– May 16-20, 2011
Lakes Environmental will be in Las Vegas, Nevada, to present a week of AERMOD and CALPUFF training from May 16 to 20, 2011.




During a recent 3-day CALPUFF course, students were able to start and complete an unprecedented 9 real-world case studies involving geophysical pre-processing, meteorological pre-processing, and CALMET, CALPUFF, and CALPOST options.




Register today to take advantage of our early registration discount!




For further information, including details of the course location and registration form, please visit the Upcoming Courses section of our website.
Successful AERMOD & CALPUFF Courses in India
Lakes Environmental in partnership with their distributor, LaGa Systems Pvt, held a 2-day AERMOD course and 3-day CALPUFF course in Hyderabad from December 6-10, 2010.
Both courses were incredibly successful and we are pleased to announce that we are offering another session of AERMOD training. See information below for further details:
AERMOD Course Date: March 14 – 15, 2011
Location: Hyderabad, India




Registration Contact:

Ms. Kamala Sunkara
LaGa Systems Pvt. Ltd
Email: kamala@lagasys.com
AUSTAL View Workshop in Berlin, Germany
ArguSoft, our German partner, is presenting their 4th AUSTAL View User Workshop. This event will be taking place from May 19-20, 2011 in Berlin, Germany, at the prestigious Maritim proArte Hotel.
The workshop will be presented in German and will cover all aspects of the AUSTAL View interface, including an emphasis on:
Agricultural sources
UTM coordinate systems and projections
Export to Google Earth
New features of the upcoming release of AUSTAL View (Version 6.5)
Lectures on stack height selection, initial pollution load significance and cold air drainage modeling
Features of the interface ARTM View, for radioactive pollutants
For more detailed information regarding this workshop, please view the course brochure, or contact ArguSoft at info@argusoft.de.
Worldwide Meteorological Data for AERMOD and CALPUFF Modeling
Lakes Environmental offers a service providing modeled meteorological data for use in the CALPUFF and AERMOD air dispersion models for any location worldwide. This data is acquired by running the MM5 model for your specific project location and site domain.
MM5 (5th-generation Mesoscale Model) is a prognostic meteorology model developed by Pennsylvania State University and the U.S. National Center for Atmospheric Research (NCAR). The model is a limited-area, non-hydrostatic model, designed to simulate or predict mesoscale and regional-scale atmospheric circulation. MM5 was primarily developed using FORTRAN coding, and is still widely used as a community model.
There are a variety of reasons why you may want to use MM5 meteorological data:
There is no station data and/or cloud cover data available for your modeling area
There is no representative station data available for your site
The available station data is not very accurate
The available station data is out of date
For more information, please see this month's modeling tip below.
Our friendly and knowledgeable Sales Staff is available to answer any questions that you might have regarding our MM5 processed data service. Complete our convenient online quotation request form to receive your formal quotation today!
Upcoming Courses
Date

Course

Location

Registration

Jan 24-25, 2011

Registration Closed

Feb 7-8, 2011
Feb 9-11, 2011

Feb 28-Mar 1, 2011

Mar 2-4, 2011

Mar 14-15, 2011

Hyderabad, India

Registration Coming Soon!

Apr 11-12, 2011

Apr 13-15, 2011

May 16-17, 2011

May 18-20, 2011

Jun 6-7, 2011

Jun 8-10, 2011

Jul 11-13, 2011

Brazil

Registration Coming Soon!

Oct 3-4, 2011

Oct 5-7, 2011

Barcelona - Spain

Registration Coming Soon!
For more information on the above courses, including registration information, location, and course outlines, please visit our web site: https://www.weblakes.com/courses.html.
Modeling Tip
Minimum Requirements for AERMOD Surface Meteorological Data File
The US EPA AERMOD model requires two meteorological data files which must be pre-processed by the AERMET model:
Surface met data file (*.SFC)
Profile met data file (*.PFL)
When pre-processing the meteorological data using the AERMET model, modelers are usually faced with the lack of proper meteorological data. The AERMET meteorological pre-processor requires as input, two types of met data files:
Surface
Upper Air
Surface Met Data File – Minimum Requirements
The following is a list of AERMET's minimum required parameters that must be present in your hourly surface met data file for proper processing:
Year, Month, Day, Hour
Wind Speed
Wind Direction
Dry Bulb Temperature
Cloud Cover (tenths)
Note that when one of the above parameters or all the cloud cover is missing, as an example, the AERMET model may still produce the Surface (*.SFC) and the PFL (*.PFL) met files with missing indicators applied to all missing values (e.g., 99 for cloud cover).
Running AERMOD with Missing Required Parameters such as Cloud Cover
The following issues may occur while running the AERMOD model with these defective met files (*.SFC and *.PFL):
The AERMOD model will not produce concentration results, although the Run may be Successful. All concentration values will be zero
A message will be displayed under the "Summary of Total Messages" section of the AERMOD main output file stating the number and percentage of missing hours. If the cloud cover is missing for a particular hour, this hour is considered missing.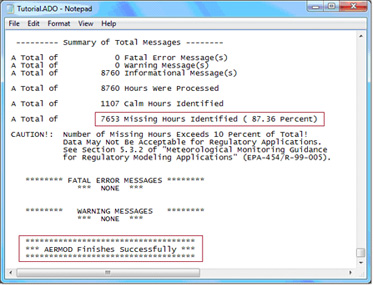 For Deposition Calculations, the following additional meteorological parameters are required:
Station Pressure
Relative Humidity
Precipitation Amount (required for Wet Deposition calculations)
AERMET will apply a default station pressure value of 1013.25mb if this parameter is missing.
Submit Your Modeling Tip Today!
We are currently accepting submissions for the Monthly Modeling Tip section that appears in our newsletters. If you have a modeling tip that may benefit our readers, please send it to us at support@weblakes.com. Your name and the name of your organization will appear below the tip providing you with an opportunity for increased exposure.
Articles
EPA to Defer GHG Permitting Requirements for Industries That Use Biomass/Three-year Deferral Allows for Further Examination of Scientific and Technical Issues Associated With Counting These Emissions
WASHINGTON - Jan 12, 2011 - The U.S. Environmental Protection Agency (EPA) is announcing its plan to defer, for three years, greenhouse gas (GHG) permitting requirements for carbon dioxide (CO2) emissions from biomass-fired and other biogenic sources. The agency intends to use this time to seek further independent scientific analysis of this complex issue and then to develop a rulemaking on how these emissions should be treated in determining whether a Clean Air Act permit is required.
"We are working to find a way forward that is scientifically sound and manageable for both producers and consumers of biomass energy. In the coming years we will develop a commonsense approach that protects our environment and encourages the use of clean energy," said EPA Administrator Lisa P. Jackson. "Renewable, homegrown power sources are essential to our energy future, and an important step to cutting the pollution responsible for climate change."
Government of Canada Takes Further Action to Protect Canadians Under the Chemicals Management Plan
OTTAWA - January 8, 2011 - On January 8, 2011, the Honourable Peter Kent, Minister of the Environment, and the Honourable Leona Aglukkaq, Minister of Health, released draft screening assessment reports for Batch 12 of the Chemicals Management Plan's Challenge Initiative.
"We are pleased with the progress we are making in protecting Canadians from chemicals that pose a risk to the environment," said Minister Kent. "We are a world leader in chemicals management and this latest draft screening report allows us to continue our efforts in the best interest of Canadians and the environment."
"Chemicals play an important role in protecting our health and contributing to our quality of life," said Minister Aglukkaq. "Canadians want to know that the chemicals we use every day are managed properly, and that is why the Government is committed to the Chemicals Management Plan and protecting the health and environment of Canadians."
EPA Completes Framework for Greenhouse Gas Permitting Programs / EPA and States Have Worked Closely to Ensure a Smooth Transition
WASHINGTON - December 23, 2010 - U.S. Environmental Protection Agency (EPA) is issuing the final series of actions that will ensure that the largest industrial facilities can get Clean Air Act permits that cover greenhouse gas (GHG) emissions beginning in January 2011. These actions are part of EPA's common sense approach to GHG permitting outlined in the spring 2010 tailoring rule.
The first set of actions will give EPA authority to permit GHGs in seven states (Ariz., Ark., Fla., Idaho, Kan., Ore., and Wyo.) until the state or local agencies can revise their permitting regulations to cover these emissions. EPA is taking additional steps to disapprove part of Texas' Clean Air Act permitting program and the agency will also issue GHG permits to facilities in the state. These actions will ensure that large industrial facilities will be able to receive permits for greenhouse gas emissions regardless of where they are located.
Government of Canada Taking Further Action to Protect the Environment and Health of Canadians by Tabling Amendments to the Protocol on Persistent Organic Pollutants
OTTAWA- December 13, 2010 The Honourable John Baird, Minister of the Environment, and the Honourable Lawrence Cannon, Minister of Foreign Affairs, today reiterated the Government of Canada's commitment to protecting the environment and citizens against the harmful effects of Persistent Organic Pollutants (POPs) by announcing its intention to ratify amendments to the Protocol on POPs, under the Convention on Long-Range Transboundary Air Pollution (LRTAP). These amendments align with our strong domestic policies.
POPs are harmful substances that do not occur naturally. They persist in the environment and accumulate within living organisms, including people. Canada is not a major producer or user of POPs, but is affected by these substances: POPs can be transported great distances and tend to concentrate in colder climates such as Canada's Arctic.
Upcoming Conferences & Trade Shows
Date

Conference

Location

Jan 31 - Feb 2, 2011

EUEC 2011
More Info

Phoenix, AZ, USA

Feb 25, 2011

Tribes, Land, and the Environment Conference
More Info

Washington, DC, USA

Mar 6-8, 2011

Gulf Environment Forum 2011
More Info

Jeddah, Saudi Arabia

Mar 8-10, 2011

Renewable Energy World Conference & Expo North America
More Info

Tampa, FL, USA

Mar 14-19, 2011

Conference on Air Quality and Climate 2011
More Info

Kona, HI, USA

Mar 22-24, 2011

AMERICANA 2011
More Info

Montreal, QC, Canada

May 11-12, 2011

33rd Motorship Propulsions and Emissions Conference
More Info

Copenhagen, Denmark

May 16-18, 2011

CANECT 2011
More Info Lakes Environmental will be at booth #1438

Toronto, ON, Canada

June 21-24, 2011

A&WMA's 104th Annual Conference & Exhibition
More Info Lakes Environmental will be at booth #523

Orlando, FL, USA
About this Newsletter
This newsletter contains information gleaned from various sources on the web, with complete links to the sources cited. Organizations cited are in no way affiliated with Lakes Environmental Software.
Lakes Environmental Software is a leading environmental IT company that offers a complete line of air dispersion modeling, risk assessment, emissions inventory, and emergency release software as well as training and custom software services. With satisfied users located around the globe, Lakes Environmental Software will continue to revolutionize the environmental software field.
For more information please visit our web site at: www.weblakes.com. You may also contact us by phone at (519) 746-5995 or by fax at (519)746-0793.
All comments and suggestions are welcome. You can e-mail us at: support@weblakes.com.