Lakes Environmental e-Newsletter
Emissions Inventory - Atmospheric Science - IT Solutions


In this issue:
News & Events
Upcoming Courses
Modeling Tip: Exporting to Google Earth with SLAB View™
Articles
Upcoming Conferences & Trade Shows
News & Events
Order MM5 Meteorological Data Online!
Lakes Environmental has introduced an exciting new automated service providing MM5 preprocessed modeled meteorological data for use in the CALPUFF and AERMOD air dispersion models for any location worldwide.




This new automated system allows you to complete a convenient online request form and receive a quotation in minutes. Data is available for all of 2011 and can be processed and delivered via our secure ftp site in just 1 to 3 days!




Our friendly and knowledgeable sales staff is available to answer any questions that you might have regarding our MM5 processed data service. Complete our convenient online request form to receive your formal quotation today!
AERMOD Course in Toronto, Ontario - April 26-27, 2012
Lakes Environmental is pleased to be heading back to Toronto to provide a 2-day AERMOD course from April 26 to 27, 2012.




We are proud to be a leading provider worldwide of powerful training for US EPA air dispersion models, with instructors being continuously rated as outstanding by course attendees.




For further information including details of the course location and registration form , please visit the Upcoming Courses section of our website.
Additional AERMOD and CALPUFF Courses Announced for 2012!
Lakes Environmental has recently added several new course locations to their 2012 AERMOD and CALPUFF Training Course Schedule.




| | |
| --- | --- |
| May 14-18 | |
| May 28-30 | CALPUFF (Doha, Qatar) |
| Oct 15-19 | |
| Nov 5-9 | |




For more information regarding these exciting new offerings, please contact us at training@weblakes.com.
Lakes Environmental Releases Several New Software Updates
The month of January was a busy month as we saw the release of several new software updates. Please find below a short listing of new software versions and implemented features.
AERMOD View Version 7.5 on January 30, 2012

New proxy authentication option for web license activations
Additional support for project names with spaces
Starting in Version 7.4: support for the latest US EPA Models - AERMOD 11353 and AERMINUTE 11325 (released on Dec 2011)



CALRoads View Version 5.2 on January 31, 2012

New proxy authentication options for web license activations
New recompiled version of the CAL3QHC model



SLAB View Version 5.1 on January 31, 2012

New proxy authentication options for web license activations
If you are currently in maintenance for any of the products above and did not receive an email regarding this update, please contact us at support@webLakes.com.
If you are a user of AERMOD View, CALRoads View, or SLAB View but are no longer in maintenance, please contact our sales team at sales@webLakes.com for pricing to update your software.
New Programs Available from U.S. EPA Air Quality Modeling Group
On February 15, 2012, the U.S. EPA Air Quality Modeling Group (AQMG) published three new modeling utilities for beta testing on the SCRAM webpage.
CALMET2NCF – Converts three-dimensional gridded meteorological data produced by CALMET into netCDF format for visualization and analysis.


MMIF – Converts prognostic meteorological model output from the Fifth Generation Mesoscale Model (MM5, Version 3) and the Weather Research and Forecasting model (WRF) for direct input into dispersion models. The program currently supports conversion into AERMOD, AERMET, SCICHEM, and CALPUFF format.


MMIFStat – Estimates CALPUFF model performance metrics and generates time series data of CALMET-formatted meteorological data.
Each program is considered a beta release for non-regulatory use and evaluation. Comments and issues with the programs should be sent to the EPA for review.
AQMG also published a final report which evaluated CALPUFF and five other long-range transport models against atmospheric tracer field experiments. The far-reaching study analyzed different meteorological inputs (MMIF vs. CALMET), alternative CALMET option selection, and overall model performance against past evaluation studies.
Details of the recent additions and supporting documentation are available on the EPA SCRAM website.
10th Conference on Air Quality Models Scheduled for March
On January 31, 2012, a Federal Register Notice was published with details of the upcoming 10th Conference on Air Quality Models to be held at the U.S. EPA Campus in Research Triangle Park, North Carolina. The Conference will be held from March 13 to 15, 2012.
An agenda for the conference is currently under final revision. Topics of discussion will include:

Appendix W / Model Clearinghouse updates from the U.S. EPA Office of Air Quality Planning & Standards
Discussions on updates to the AERMOD and CALPUFF modeling systems
AERMOD applications development
1-hour NO2 & SO2 modeling
Emerging models and modeling techniques
Public presentations
An informational web page for the Conference is available on the EPA SCRAM website. A copy of the Federal Register Notice can be found here.
Upcoming Courses
Date

Course

Location

Registration

Feb 27-28, 2012
Feb 29-Mar 2, 2012

Apr 26-27, 2012

May 14-15, 2012
May 16-18, 2012

May 28-30, 2012

Doha, Qatar

Registration Coming Soon

Jun 4-5, 2012
Jun 6-8, 2012

Sep 27-28, 2012

Mexico City, Mexico

Registration Coming Soon

Oct 15-16, 2012
Oct 17-19, 2012

London, UK

Registration Coming Soon
For more information on the above courses, including registration information, location, and course outlines, please visit our web site: https://www.weblakes.com/courses.html.
Modeling Tip
Exporting to Google Earth with SLAB View™
One of the enhancements in SLAB View Version 5 is the ability to export project information to Google Earth. Users can easily export the footprint radius, plant boundary, or annotations.
The Export to Google Earth option is also available for other Lakes Environmental Software products such as:
Follow the simple steps below to export SLAB View layers to Google Earth:
Step 1: Set the Model Projection so the project is properly georeferenced. This can be done in the New Project Wizard when starting a brand new project or via the View menu for existing projects.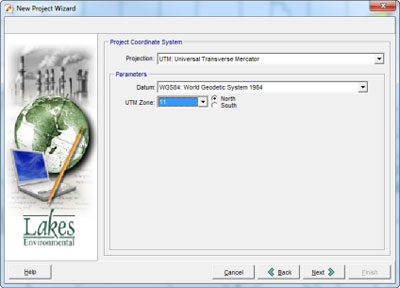 Step 2: If you wish to export the footprint radius, set up and run the model. Annotations and the plant boundary can be exported at any time.
Step 3: Open the Export menu and select Google Earth.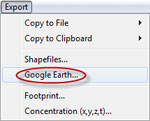 Step 4: Identify which layers you want to export. The objects will be exported using the same display properties shown in the SLAB View interface.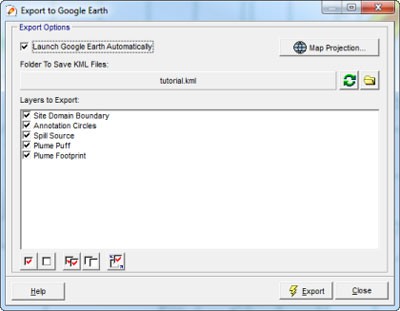 Step 5: Press the Export button to automatically launch Google Earth. If you disable the "Launch Google Earth Automatically" option, the layers will be exported as kml files which can be opened manually in Google Earth.
The image below shows an example. The source is the red point at the center, the green circles are annotations made in SLAB View, the black line represents the footprint radius, and the plume puff concentrations are the contoured region.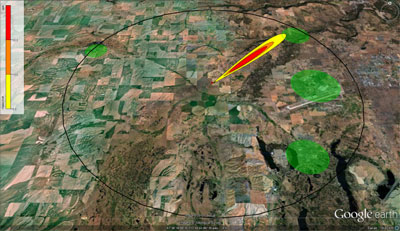 Submit Your Modeling Tip Today!
We are currently accepting submissions for the Monthly Modeling Tip section that appears in our newsletters. If you have a modeling tip that may benefit our readers, please send it to us at support@webLakes.com. Your name and the name of your organization will appear below the tip providing you with an opportunity for increased exposure.
Articles
Congress to Pass Bill Opposing EU Aircraft Emissions Rules
February 1, 2012 - The US Congress is expected to pass a bill in the coming weeks expressing its formal opposition to a new EU law requiring commercial airlines to buy carbon permits for every tonne of CO2 they emit flying in and out of the bloc's airports.
Although the bill is considered less inflammatory than previously tabled proposals banning US airlines from complying with the regulation, it will no doubt stoke tensions between Brussels and Washington.
The EU incensed the US and many other countries, including China, India and Russia, by including all airlines servicing Europe in its emissions trading system (EU ETS) from 1 January. US airlines sought to have the legislation declared illegal on the basis that it infringes international aviation treaties, but this was dismissed by the European Court of Justice in December.
California Green Lights Tough Low Carbon Car Standards
CALIFORNIA - January 30, 2012 - California on Friday approved some of the world's most ambitious green car standards, with officials rubber-stamping a wide-ranging package of regulations that promises to halve greenhouse gas emissions and deliver 1.4 million zero emission vehicles to state roads by 2025.
The new regulations were voted through unanimously by the California Air Resources Board (ARB) and will build on nationwide standards approved last year by the Obama administration that require all new US cars to double average fleet fuel efficiency to 54.5 miles per gallon by 2025.
"The California Advanced Clean Car rules will clean our air, fight climate change and provide cars that save consumers thousands of dollars at the pump," said ARB chair Mary D Nichols in a statement. "The board's action today will create thousands of new jobs, transforming California into the advanced car capital of the world.
Upcoming Conferences & Trade Shows
Date

Conference

Location

Mar 14-16, 2012

GLOBE 2012
More Info

Vancouver, BC, Canada

Mar 17-18, 2012

2012 International Conference on Informatics, Environment, Energy and Applications (IEEA 2012)
More Info

Singapore

Mar 19-23, 2012

8th International Conference on Air Quality
More Info

Athens, Greece

Mar 25-27, 2012

Gulf Environment Forum 2012
More Info

Jeddah, Saudi Arabia

Apr 22-27, 2012

International Polar Year (IPY) 2012 Conference
More Info

Montréal, QC, Canada

Apr 30 - May 2, 2012

CANECT 2012
More Info

Mississauga, ON, Canada

May 23-24, 2012

34th Motorship Propulsions and Emissions Conference
More Info

Hamburg, Germany

Jun 19-22, 2012

A&WMA 105th Annual Conference and Exhibition
More Info

San Antonio, TX, USA

Jun 25-29, 2012

The 6th International Conference on Environmental Science and Technology
More Info

Houston, TX, USA
About this Newsletter
This newsletter contains information gleaned from various sources on the web, with complete links to the sources cited. Organizations cited are in no way affiliated with Lakes Environmental Software.
Lakes Environmental Software is a leading environmental IT company that offers a complete line of air dispersion modeling, risk assessment, emissions inventory, and emergency release software as well as training and custom software services. With satisfied users located around the globe, Lakes Environmental Software will continue to revolutionize the environmental software field.
For more information please visit our web site at: www.webLakes.com. You may also contact us by phone at (519) 746-5995 or by fax at (519)746-0793.
All comments and suggestions are welcome. You can e-mail us at: support@webLakes.com.