Lakes Environmental e-Newsletter
Emissions Inventory - Atmospheric Science - IT Solutions


In this issue:
News & Events
Upcoming Courses
Modeling Tip: Importing Group Links to CALRoads View
Articles
Upcoming Conferences & Trade Shows
News & Events
CALRoads View™ Version 6.2 Released!
Lakes Environmental released CALRoads View Version 6.2 on November 21, 2013.
Updates include:

Updated CAL3QHCR Model - CALRoads View uses the latest US EPA CAL3QHCR traffic air dispersion model version 13196
Import/Export Improvements - Group information is now supported in Excel files containing link information

Check out our release notes for a list of the changes and new features available in CALRoads View Version 6.2.
If you are currently in maintenance for CALRoads View and did not receive an email regarding this update, please contact us at support@weblakes.com.
If you are a user of CALRoads View but are no longer in maintenance, please contact sales@weblakes.com for pricing to update your license to version 6.2.
AERMOD Course in Toronto, Ontario – Feb 3-4, 2014
Lakes Environmental is heading back to Toronto to provide a 2-day AERMOD course from February 3 to 4, 2014.
Attending these courses is the best way to stay current with recent regulatory and methodology changes. Lakes Environmental uses cutting edge tools that will revolutionize the way you do air dispersion modeling!
Dr. Jesse Thé Keynote Speaker at FIMAI
Dr. Jesse Thé, President of Lakes Environmental, presented the keynote speech at FIMAI 2013 (International Industrial Environment and Sustainability Fair) which took place in São Paulo, Brazil at the Expo Center Norte from November 5 to 7, 2013.
Dr. Thé presented two speeches. One speech was focused on Real-Time Forecasting Systems for Incineration Units while the other focused on IT Solution Systems for Regional and Global Emissions Inventory.
Lakes Environmental December Holiday Schedule
Please find below the holiday schedule for Lakes Environmental's offices:
| | |
| --- | --- |
| December 24 | Closed |
| December 25 | Closed |
| December 26 | Closed |
| December 27 | Open |
| December 30 | Open |
| December 31 | Closed |
| January 1 | Closed |
| January 2 | Open |
If you have an urgent matter requiring assistance during the holidays, please e-mail us at support@webLakes.com.
Upcoming Courses
Date

Course

Location

Registration

Feb 3-4, 2014

Feb 24-25, 2014
Feb 26-28, 2014

Mar 20-21, 2014

Québec City*


Registration
Coming Soon

Apr 7-8, 2014
Apr 9-11, 2014

May 5-6, 2014
May 7-8, 2014

Calgary, AB

Nov 3-4, 2014
Nov 5-6, 2014

AERMOD
CALPUFF

São Paulo, Brazil

Registration
Coming Soon
*Sponsored by APCAS
For more information on the above courses, including registration information, location, and course outlines, please visit our web site: https://www.weblakes.com/courses.html.
Modeling Tip
Importing Group Links to CALRoads View
The models that make up CALRoads View (CALINE4, CAL3QHC, & CAL3QHCR) use links as their primary input data. Links are straight segments of roadways with constant height, width, traffic volume, and vehicle emission factors. Links can be specified in CALRoads View in two ways:
Single Links: A single straight-line segment, or
Group Links: Links composed by more than one segment
The new release of CALRoads View, Version 6.2, includes a new feature which allows users to import Group Links. The template spreadsheet (Link_Parameters.xls) can be found in the default directory C:\Lakes\CALRoads View\Templates.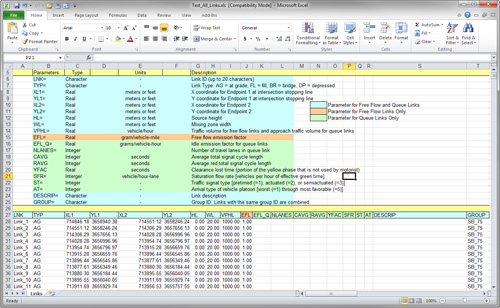 Column T now contains the GROUP parameter. Links with the same group ID are combined. To import data to a project, follow these steps below:
Create a new project or open an existing project in CALRoads View
Select Import | Links from the main menu


Find your template spreadsheet and click Open


All links with a valid GROUP parameter in the spreadsheet are now set as Group Links for easy editing.
Submit Your Modeling Tips Today!
We are currently accepting submissions for the Monthly Modeling Tip section that appears in our newsletters. If you have a modeling tip that may benefit our readers, please send it to us at support@webLakes.com. Your name and the name of your organization will appear below the tip providing you with an opportunity for increased exposure.
Articles
President Obama Signs Executive Order, Addresses Preparedness for Climate Change Impacts
November 4, 2013 - On Friday, President Obama established a Task Force on Climate Preparedness and Resilience to advise the Administration on how the Federal Government can respond to the needs of communities nationwide that are dealing with the impacts of climate change.
Report: Air Pollution a Leading Environmental Cause of Cancer Deaths
October 31, 2013 - SALT LAKE CITYAir pollution is ugly, and among other things it is now officially being blamed for contributing to lung cancer.
The World Health Organization this month declared smoggy air a certified cancer agent, joining tobacco, asbestos and ultraviolet radiation as culprits adversely affecting health. Particulate matter, a major component of outdoor air pollution, was also classified as being carcinogenic to humans, according to the international organization.
EPA Releases Greenhouse Gas Emissions Data from Large Facilities
October23 2013 - WASHINGTON - Today, the U.S. Environmental Protection Agency (EPA) released its third year of greenhouse gas data detailing carbon pollution emissions and trends broken down by industrial sector, greenhouse gas, geographic region, and individual facility. The data, required to be collected annually by Congress, highlight a decrease in greenhouse gas emissions as more utilities switch to cleaner burning natural gas.
Air Pollution Still Harming Health Across Europe
October 25, 2013 -The report, 'Air quality in Europe – 2013 report', is an EEA contribution to the European Commission's review of air quality policy and the EU 'Year of Air'.
Vehicles, industry, agriculture and homes are contributing to air pollution in Europe. Despite falling emission levels and reductions of some air pollutant concentrations in recent decades, the report demonstrates that Europe's air pollution problem is far from solved.
Airshed Study to Assess Effects of LNG in Kitimat
October 3, 2013 - KITIMAT - The Province will fund a $650,000 scientific study to help inform regulatory and policy development for future industrial activity in the Kitimat area. The goal is to ensure the potential impacts from industrial air emissions are clearly understood prior to new projects being approved and in operation.
The Kitimat Airshed Impact Assessment Project will look at the cumulative effects of existing and proposed industrial air emissions in the airshed. These include emissions from: an existing aluminium smelter, three proposed LNG terminals, a proposed oil refinery, a crude-oil export facility, and gas-turbine-powered electrical generation facilities. The study will focus on sulphur dioxide and nitrogen dioxide emissions from these facilities.
EPA and Coast Guard Reach Pollution Control Agreement with Carnival
September 5, 2013 - The U.S. Environmental Protection Agency (EPA) and Coast Guard have reached an agreement in principle with Carnival Corporation to develop advanced emission control technology to be used in waters surrounding U.S. coasts.
Under the agreement, Carnival will develop and deploy a new exhaust gas cleaning system on up to 32 ships over the next three years to be used in Emission Control Areas (ECA's). The North American and U.S. Caribbean ECA's create a buffer zone around U.S. and Canadian coasts where ships must reduce harmful air pollution emissions.
Upcoming Conferences & Trade Shows
Date

Conference

Location

Dec 3-6, 2013

Pollutec Horizons 2013
More Info

Paris, France

Jan 12-17, 2014

SPARC (Stratosphere-Troposphere Processes and their Role in Climate) 2014 General Assembly
More Info

Queenstown, New Zealand

Jan 20-22, 2014

World Future Energy Summit
More Info

Abu Dhabi, UAE

Feb 3-5, 2014

Energy, Utility & Environment Conference (EUEC) 2014
More Info

Phoenix, AZ, USA

Mar 2-7, 2014

38th Stationary Source Sampling & Analysis for Air Pollutants Conference
More Info

Point Clear, AL, USA

Mar 24-28, 2014

9th International Conference on Air Quality - Science and Application
More Info

Garmisch-Partenkirchen, Germany

Mar 26-28, 2014

GLOBE 2014
More Info

Vancouver, BC, Canada

Apr 28-30, 2014

CANECT 2014
More Info

Mississauga, ON, Canada

Jun 24-27, 2014

A&WMA Annual Conference and Exhibition
More Info

Long Beach, CA, USA

July 7-9, 2014

22nd International Conference on Modelling, Monitoring and Management of Air Pollution
More Info

Opatija, Croatia
About this Newsletter
This newsletter contains information gleaned from various sources on the web, with complete links to the sources cited. Organizations cited are in no way affiliated with Lakes Environmental Software.
Lakes Environmental Software is a leading environmental IT company that offers a complete line of air dispersion modeling, risk assessment, emissions inventory, and emergency release software as well as training and custom software services. With satisfied users located around the globe, Lakes Environmental Software will continue to revolutionize the environmental software field.
For more information please visit our web site at: www.webLakes.com. You may also contact us by phone at (519) 746-5995 or by fax at (519)746-0793.
All comments and suggestions are welcome. You can e-mail us at: support@webLakes.com.