Lakes Environmental e-Newsletter
Emissions Inventory - Atmospheric Science - IT Solutions


In this issue:
News & Events
Upcoming Courses
Modeling Tip: Change the Default Text Editor
Articles
Upcoming Conferences & Trade Shows
News & Events
CALPUFF View™ Version 7.0 Released!
On February 21, 2014, Lakes Environmental released CALPUFF View Version 7.0.
New features include:
Latest EPA-Approved Models: Support for the new CALPUFF and CALMET executables (Version 5.8.4, Level 130731)
Time Series Animations: View and export animations of meteorological data (CALMET.DAT), modeled concentrations (CONC.DAT), and deposition fluxes (DFLX.DAT, WFLX.DAT)
Variable Emissions Graph: Line graph display of variable emission rates for external sources
Sloped Roof Buildings: Automatically create intermediate tiers to approximate sloped roof buildings
For a detailed listing of updates available in CALPUFF View Version 7.0, please check out our latest release notes.
If you are currently in maintenance for CALPUFF View and did not receive an email regarding this update, please contact us at support@webLakes.com.
If you are a user of CALPUFF View but are no longer in maintenance please contact LakesSoftware@webLakes.com for pricing to get up and running on version 7.0.
CALRoads View™ Version 6.2.5 Released!
On February 5, 2014, Lakes Environmental released CALRoads View Version 6.2.5.
New features include:




Download of OpenStreetMaps was updated to support recent changes from map server
Several improvements and fixes were incorporated into WRPLOT View

Check out our release notes for a complete list of the changes and new features available in CALRoads View Version 6.2.5.
If you are currently in maintenance for CALRoads View and did not receive an email regarding this update, please contact us at support@webLakes.com.
If you are a user of CALRoads View but are no longer in maintenance please contact LakesSoftware@webLakes.com for pricing to get up and running on version 6.2.5.
Lakes & CASANZ AERMOD Course in Sydney, Australia – Mar 11-13, 2014
Lakes Environmental and the Clean Air Society of Australia & New Zealand (CASANZ) invite you to participate in a 3-day AERMOD course taking place in Sydney from March 11 to 13, 2014.
If you are interested in registering for this AERMOD course, please contact Vicki Callaway, Training Administrator for CASANZ at admin@casanz.org.au.
Lakes & APCAS AERMOD Course in Quebec City – Mar 20-21, 2014
Lakes Environmental is pleased to be travelling to Quebec City for two days of AERMOD training from March 20 to 21, 2014.




This course will be hosted by APCAS (Association pour la prévention de la contamination de l'air et du sol). Presentation of the course as well as all course materials (presentation slides, course notes, etc) will be in English.




Don't be left out! Register Today!
High Performance Modeling Runs
When you need AERMOD model results quickly but your project is taking too long to run, contact the experts at Lakes Environmental for help!




Lakes Environmental runs AERMOD projects for clients using the powerful capabilities of a Cray Supercomputer. Using our AERMOD MPI parallel code, model runs finish in a fraction of the time as compared to the standard single-processor AERMOD executable, and the results are 100% equivalent.
To find out more, or to request a quote for this service, please contact us today at sales@weblakes.com.
AERMOD and CALPUFF Courses – Las Vegas, Nevada – Apr 7-11, 2014
Lakes Environmental will be in Las Vegas, to present a full week of AERMOD and CALPUFF training from April 7 to 11, 2014.
CALPUFF course students will have the opportunity to complete a Do It Yourself Case Study using MM5 processed data for a location of their choice making this course of great benefit to their modeling work.
Just Announced! AERMOD & CALPUFF Courses – Toronto - May 12-15, 2014
Lakes Environmental is pleased to announce a second Toronto AERMOD course date from May 12 to 13, 2014. Immediately following will be a 2-day CALPUFF course from May 14 to 15, 2014.




Early Registration Discount Ends: April 14, 2014




Course: AERMOD (May 12-13, 2014)
Course: CALPUFF (May 14-15, 2014)
Location: Toronto, Ontario
Contact: training@weblakes.com
Info: Registration Form
Upcoming Courses
Date

Course

Location

Registration

Mar 11-13, 2014

Mar 20-21, 2014

Apr 7-8, 2014
Apr 9-11, 2014

May 5-6, 2014
May 7-8, 2014

May 12-13, 2014
May 14-15, 2014

AERMOD
CALPUFF

Toronto, ON

Sep 15-18, 2014

AERMOD
CALPUFF

Lima, Peru

Registration
Coming Soon

Oct 6-8, 2014

AERMOD

Brisbane, Australia*

Registration
Coming Soon

Nov 3-4, 2014
Nov 5-6, 2014

AERMOD
CALPUFF

São Paulo, Brazil

Registration
Coming Soon
*Sponsored by CASANZ
**Sponsored by APCAS
For more information on the above courses, including registration information, location, and course outlines, please visit our web site: https://www.weblakes.com/courses.html.
Modeling Tip
Change the Default Text Editor
Most air dispersion models produce simple text input and output files. To display these files, Lakes Environmental's products call a default text editor. Different text editors provide different functionality. To take advantage of these features, you can change the default text editor called by our software.
Access Preferences from the File menu.


Select System Editor from the Settings list


Choose from WordPad, Notepad, or User-Specified Editor


One benefit to using Notepad is the ability to identify line numbers. With Word Wrap turned off (go to Notepad's Format menu and deselect Word Wrap), you can enable the Status Bar under the View menu. The Status Bar tracks the cursor and tells you the Line and Column number of the cursor's present position.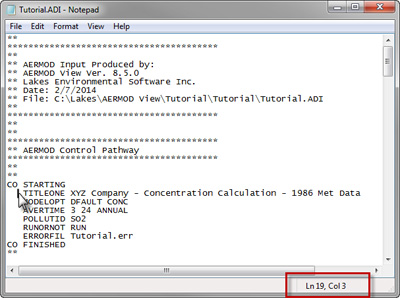 This is useful for identifying the location of errors within model files. For example, AERMOD always prints a line number in warning and error messages. The warning message below references line 38 as the location of a potential out-of-range source parameter (VS for exit velocity).

If we open the input file and search for line 38, we find a point source with an exit velocity > 50 m/s.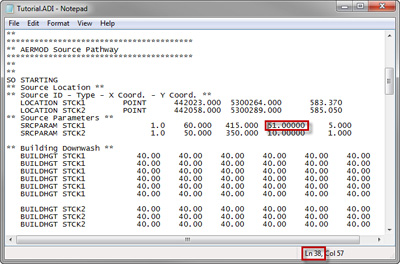 You can also choose a User-Specified Editor from the Preferences menu. The example below uses the open source program Notepad++ as the new default editor before opening a CALMET input file from CALPUFF View.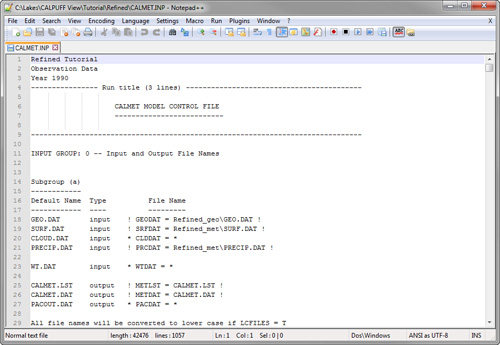 Submit Your Modeling Tips Today!
We are currently accepting submissions for the Monthly Modeling Tip section that appears in our newsletters. If you have a modeling tip that may benefit our readers, please send it to us at support@webLakes.com. Your name and the name of your organization will appear below the tip providing you with an opportunity for increased exposure.
Articles
EPA Issues Annual Report on Chemicals Released to Land, Air and Water in New York Data Finds Reduction from Previous Year
February 4, 2014 - (New York, N.Y.) The annual U.S. Environmental Protection Agency report on the amount of toxic chemicals released to the land, air and water by industrial facilities in New York State in 2012 showed a slight decrease over the previous year's data. The Toxics Release Inventory report issued today by the EPA covers 633 New York facilities that are required to report their releases to the agency. Total releases to land, air and water reported in 2012 was 13.8 million pounds, which was a 6,000 pound reduction from 2011.
"The Toxics Release Inventory allows the public and policymakers to better understand the pollutants released into our air, water and land each year," said EPA Regional Administrator Judith A. Enck. "This powerful tool helps people better understand pollution problems in their communities and take action to protect their health and the environment."
Environmental Health Risks of Alberta Oil Sands Likely Underestimated
February 4, 2014 - VICTORIA - A new study suggests the environmental health risks of oilsands operations in Alberta's Athabasca region have probably been underestimated.
Researchers say emissions of potentially hazardous air pollution that were used in environmental reviews done before approving some projects did not include evaporation from tailings ponds or other sources, such as dust from mining sites.
European Commission Recommends Minimum Principles for Shale Gas
January 22, 2014 - Today the European Commission adopted a Recommendation aiming to ensure that proper environmental and climate safeguards are in place for "fracking" – the high-volume hydraulic fracturing technique used notably in shale gas operations. The Recommendation should help all Member States wishing to use this practice address health and environmental risks and improve transparency for citizens. It also lays the ground for a level playing field for industry and establishes a clearer framework for investors.
The Recommendation is accompanied by a Communication that considers the opportunities and challenges of using "fracking", to extract hydrocarbons. Both documents are part of a wider initiative by the Commission to put in place an integrated climate and energy policy framework for the period up to 2030.
Economic Benefits of Reducing Nitrogen Pollution
January 14, 2014 -Falling levels of nitrogen in the atmosphere across Europe may be much more economically beneficial than previously believed, according to a recent study.
Indeed, scientists think the UK alone benefits by around £65 million a year. Levels of atmospheric nitrogen have fallen by around a quarter in Europe since 1990, mostly because of tighter rules on emissions from engines and industry. Scientists are still working to understand the consequences.
EPA's New Greenhouse Gas Emissions Standards Now Open for Public Comment
January 10, 2014 – Politically contentious as ever, climate change is back in the headlines, as a brutal, deep and prolonged southward shift in the polar vortex has put much of the continental U.S. in a deep freeze. In stark contrast, people living in the Southern Hemisphere — in Australia, Argentina and Brazil, for example — are trying to cope with heat waves, the threat of drought and power outages in major cities. While many are scrambling with the immediacy of such problems, the U.S. Environmental Protection Agency (EPA) is moving forward with longer term, structural fixes to address climate change conceived by the Obama Administration. On Jan. 8, the EPA issued proposed new performance standards that would put an upper limit, or cap, on carbon and greenhouse gas (GHG) emissions from new, stationary power plants under Section 111 of the Clean Air Act.
Study Results in Improved Reporting of GHG Emissions
December 20, 2013 - VICTORIA - A joint field study between the B.C. government and the Canadian Association of Petroleum Producers is resulting in a more accurate accounting of greenhouse gas emissions from the oil and gas sector. This study is part of a larger update of the measurement methods on a series of emissions sources for B.C.'s large industrial reporting requirement.
The study was prompted by concerns about the reliability of GHG emissions data provided by the manufacturers of pneumatic devices, which are common instruments at well sites and along pipelines that use pressurized gas to control processes.
Upcoming Conferences & Trade Shows
Date

Conference

Location

Mar 2-7, 2014

38th Stationary Source Sampling & Analysis for Air Pollutants Conference
More Info

Point Clear, AL, USA

Mar 24-28, 2014

9th International Conference on Air Quality - Science and Application
More Info

Garmisch-Partenkirchen, Germany

Mar 26-28, 2014

GLOBE 2014
More Info

Vancouver, BC, Canada

Apr 28-30, 2014

CANECT 2014
More Info

Mississauga, ON, Canada

May 13-14, 2014

A&WMA Oil & Gas Environmental Compliance Conference – Appalachian Basin
More Info

Washington, PA, USA

May 28-30, 2014

Carbon Expo 2014
More Info

Cologne, Germany

Jun 11-12, 2014

Emissions 2014
More Info

Troy, MI, USA

Jun 15-19, 2014

8th International Congress on Environmental Modelling and Software (iEMSs)
More Info

San Diego, CA, USA

Jun 24-27, 2014

A&WMA Annual Conference and Exhibition
More Info

Long Beach, CA, USA

Jul 7-9, 2014

22nd International Conference on Modelling, Monitoring and Management of Air Pollution
More Info

Opatija, Croatia
About this Newsletter
This newsletter contains information gleaned from various sources on the web, with complete links to the sources cited. Organizations cited are in no way affiliated with Lakes Environmental Software.
Lakes Environmental Software is a leading environmental IT company that offers a complete line of air dispersion modeling, risk assessment, emissions inventory, and emergency release software as well as training and custom software services. With satisfied users located around the globe, Lakes Environmental Software will continue to revolutionize the environmental software field.
For more information please visit our web site at: www.webLakes.com. You may also contact us by phone at (519) 746-5995 or by fax at (519)746-0793.
All comments and suggestions are welcome. You can e-mail us at: support@webLakes.com.