Lakes Environmental e-Newsletter
Emissions Inventory - Atmospheric Science - IT Solutions


In this issue:
News & Events
Upcoming Courses
Modeling Tip: Working with Overlays
Articles
Upcoming Conferences & Trade Shows
News & Events
Lakes Environmental Releases Several New Software Updates
The month of June has been a busy month as we have seen the release of several new software updates. Please find below a listing of new software versions and implemented features.
Updated Models: New US EPA AERMOD/AERMET models version 14134 available (released May 2014)
Updated AERMOD MPI: New AERMOD MPI (parallel version) to support latest US EPA AERMOD Model 14134
New Averaging Options: New options introduced to disable NAAQS special processing for 1-Hour SO2/NO2 and 24-Hour PM-2.5
Tile Maps: Option to automatically import OpenStreet maps now available in the New Project Wizard (applicable only to users in current maintenance)

New Project Wizard: Option to auto-download terrain/land use data was improved to support any location worldwide
Model Run: You can now run the models from the CALMET and CALPUFF Wizards
CALPOST: FLAG 2010 is now available for the EPA Approved CALPOST Version
CALMET Parallel: Fixed issue with CALMET parallel failing in some computer environments

New Models: This release includes the latest version of the US EPA AERSCREEN model (14147) as well as the last three versions of the US EPA AERMOD model (14134, 13350, and 12345)
Base Maps Import: Additional base maps import options are now available
Overlay Options: New buttons were introduced under the Overlays tab for easier manipulation of layers in graphical area

Support for New Model, "AUSTAL2000N.EXE", for Wet Deposition Calculations
Visualization of Wind Field Cross Section
Visualization of Gridded Buildings
Import of WMS (Web Map Service) Maps*
Editor for Roughness Length files*
Editor for Terrain Elevation files

* This option is only available as long as your license is under current maintenance.
If you are currently in maintenance for any of the products above and did not receive an email regarding this update, please contact us at support@webLakes.com.
If you are a user of AERMOD View, CALPUFF View, AERSCREEN View or AUSTAL View but are no longer in maintenance please contact sales@webLakes.com for pricing to update your software.
Lakes Environmental at A&WMA Conference and Exhibition
Lakes Environmental will be in Long Beach, California from June 24-27, 2014 for the 107th Annual Air & Waste Management Conference and Exhibition.




Drop by booth #208 to meet our friendly, knowledgeable staff and for your chance to win a FREE copy of our AERMOD View, CALPUFF View or AERSCREEN View air dispersion modeling software!




Visit the conference website to register for this annual event. This year's conference offers excellent opportunities for the environmental professional. You don't want to miss it!
Lakes Environmental & CASANZ AERMOD Course in Brisbane, Australia – Oct 7-9, 2014
Lakes Environmental and the Clean Air Society of Australia & New Zealand (CASANZ) invite you to participate in a 3-day AERMOD course taking place in Brisbane from Oct 7 to 9, 2014.
Lakes Environmental Wins MARAMA Bid
Lakes Environmental was chosen by the Mid-Alantic Regional Air Management Association (MARAMA) to deliver a CALPUFF Air Dispersion Modeling Course for participants from the MARAMA member states in Aberdeen, Maryland from April 29 to May 1, 2014.




This training also included pre- and post-course webinars and was well-received by the course participants. This latest course adds to Lakes Environmental's strong reputation in the area of training all across the globe.




The 3-day in class course combined theory with hands-on real-world case studies using Lakes Environmental's advanced graphical user interface, CALPUFF View.
For information regarding our upcoming Air Dispersion Modeling courses, please visit the Upcoming Courses section on our website.
Lakes Environmental Closed in Observance of Canada Day
Lakes Environmental's Waterloo office will be closed on Tuesday, July 1, 2014 to observe the Canada Day holiday. Though our Waterloo sales office will be closed, our Dallas support office will remain open on this day. If you have any needs during that time, please e-mail us at support@webLakes.com and we will respond to your inquiry as soon as possible.
Upcoming Courses
Date

Course

Location

Registration

Sep 15-16, 2014
Sep 17-18, 2014

Sep 29-Oct 1, 2014
Oct 2-3, 2014

AERMOD
CALPUFF

Johannesburg,
South Africa
Sponsored by NACA

Registration
Coming Soon

Oct 7-9, 2014

Brisbane, Australia
Sponsored by CASANZ

Oct 20-21, 2014
Oct 22-23, 2014

London, UK

Registration
Coming Soon

Nov 3-4, 2014
Nov 5-6, 2014
For more information on the above courses, including registration information, location, and course outlines, please visit our web site: https://www.weblakes.com/courses.html.
Modeling Tip
Working with Overlays
One of the cornerstones to working with Lakes Environmental Software products is the drawing area. This is where all objects and layers are displayed for viewing and editing. One tool users have to properly control what is displayed in the drawing area is the Overlays tab on the Tree View.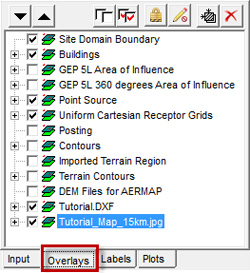 This tab allows users to specify which objects should be displayed, order layers to present the best possible display, or graphically edit specific layers or objects. Checked layers are shown in the drawing area, and they are displayed in the order they are listed in the Overlays tab. In the example image above, Site Domain Boundary will be on top of all other layers in the drawing area while Tutorial_Map_15km.jpg is the bottom layer. Lakes recently added several new options to the Overlays tab to give users better control of their drawing area.
The Uncheck All and Check All options give users the ability to quickly manage all listed layers for hiding or viewing.


Disable Selection gives the user the ability to prevent the selected layer from being selected in the drawing area. This is especially useful for large base maps which the user may never want to edit or otherwise select while working with model objects. A layer that has been disabled from selection will have a lock icon displayed.


Disable Graphical Editing prevents the selected layer from being moved, resized, or deleted. The layer or object can still be selected in the drawing area so that it can be edited but it is locked to the drawing area graphically.


These new options provide even more control to users to efficiently manage their projects.
Submit Your Modeling Tips Today!
We are currently accepting submissions for the Monthly Modeling Tip section that appears in our newsletters. If you have a modeling tip that may benefit our readers, please send it to us at support@webLakes.com. Your name and the name of your organization will appear below the tip providing you with an opportunity for increased exposure.
Articles
CO2 Emissions in EU Down Significantly
June 5, 2014 - The European Union's greenhouse gas emissions have fallen by 19.2% compared to 1990s levels, according to the European Environment Agency.
EU emissions dropped 1.3% in 2012, reaching their lowest level ever recorded, according to data reported to the United Nations by the EEA. The bloc's greenhouse gas output decreased by 1082 megatonnes since 1990, more than the combined emissions of Italy and United Kingdom in 2012.
EPA Proposes First Guidelines to Cut Carbon Pollution from Existing Power Plants
June 2, 2014 - WASHINGTON -At the direction of President Obama and after an unprecedented outreach effort, the U.S. Environmental Protection Agency is today releasing the Clean Power Plan proposal, which for the first time cuts carbon pollution from existing power plants, the single largest source of carbon pollution in the United States. Today's proposal will protect public health, move the United States toward a cleaner environment and fight climate change while supplying Americans with reliable and affordable power.
Utility Emissions in US Trending Down
May 31, 2014 – A new report on U.S. power plant emissions from the country's top 100 electric power producers shows a downward trend in nitrogen oxides (NOx), sulfur dioxides (SO2), mercury and carbon dioxide (CO2) since 2000, with CO2 emissions decreasing 13 percent between 2008 and 2012. The findings show that the industry is already shifting toward a combination of increased energy efficiency and lower carbon fuel sources, which should help it meet new Environmental Protection Agency (EPA) carbon standards expected to be announced on June 2.
EPA Reducing Air Pollution from Old Diesel Engines; Grants Provide $1.1 Million to Protect People from Harmful Air Pollution
May 27, 2014 - (New York, N.Y.) The U.S. Environmental Protection Agency is supporting local efforts to reduce air pollution in the New York City metropolitan area by providing a total of $1.1 million to help two organizations replace old, dirty diesel engines on boats with less polluting models. The projects will cut emissions of harmful nitrogen oxides and particulate matter among other pollutants. These pollutants are linked to health problems, including asthma, lung and heart disease and premature death.
Ocean Winds Keep Australia Dry and Antarctica Cold
May 12, 2014 - New research explains why Antarctica is not warming as much as other continents, and why southern Australia is recording more droughts.
Analysis of Antarctic ice cores, published this week in Nature Climate Change, reveals that rising levels of carbon dioxide in the atmosphere are strengthening the stormy Southern Ocean winds which deliver rain to southern Australia, but pushing them further south towards Antarctica.
Study co-author Dr Robert Mulvaney, from British Antarctic Survey says: "The strengthening of these westerly winds helps us to explain why large parts of the Antarctic continent are not yet showing evidence of climate warming."
Upcoming Conferences & Trade Shows
Date

Conference

Location

Jun 24-27, 2014

A&WMA Annual Conference and Exhibition
More Info Lakes Environmental will be at
booth #208

Long Beach, CA, USA

Jul 7-9, 2014

22nd International Conference on Modelling, Monitoring and Management of Air Pollution
More Info

Opatija, Croatia

Aug 11-13, 2014

4th International Conference on Environmental Pollution and Remediation (ICEPR 2014)
More Info

Prague, Czech Republic

Aug 16-21, 2014

The World Weather Open Science Conference
More Info

Montréal, QC, Canada

Aug 28- Sep 2, 2014

2014 International Aerosol Conference
More Info

Busan, Korea

Sep 17-18, 2014

International Conference on Chemistry and Environmental Sciences Research (ICCESR 2014)
More Info

Penang, Malaysia

Oct 15-17, 2014

Remediation Technologies Symposium 2014
More Info

Banff, AB, Canada

Nov 5-7, 2014

Seventh International Symposium on Non-CO2 Greenhouse Gases (NCGG7)
More Info

Amsterdam, Netherlands

Nov 9-13, 2014

SETAC North America 35th Annual Meeting
More Info

Vancouver, BC, Canada

Nov 10-14, 2014

7th International Congress on Environmental Geotechnics
More Info

Melbourne, Australia

Dec 2-5, 2014

Pollutech 2014
More Info

Lyon, France
About this Newsletter
This newsletter contains information gleaned from various sources on the web, with complete links to the sources cited. Organizations cited are in no way affiliated with Lakes Environmental Software.
Lakes Environmental Software is a leading environmental IT company that offers a complete line of air dispersion modeling, risk assessment, emissions inventory, and emergency release software as well as training and custom software services. With satisfied users located around the globe, Lakes Environmental Software will continue to revolutionize the environmental software field.
For more information please visit our web site at: www.webLakes.com. You may also contact us by phone at (519) 746-5995 or by fax at (519)746-0793.
All comments and suggestions are welcome. You can e-mail us at: support@webLakes.com.