Lakes Environmental e-Newsletter
Emissions Inventory - Atmospheric Science - IT Solutions


In this issue:
News & Events
Upcoming Courses
Modeling Tip: Time Series Output from AERMOD
Articles
Upcoming Conferences & Trade Shows
News & Events
CALPUFF View Version 8.5 Released!
On March 17, 2017 Lakes Environmental released CALPUFF View Version 8.5. This release includes the following updates:
Improved Tables: Added multi-row Select and Apply options to make data input easier.
New Error Checks: Additional warnings and errors added to Details to catch errors before model execution.
Updated NED Downloads: WebGIS process has been updated to download most recent data from USGS servers.
For a detailed listing of updates available in CALPUFF View Version 8.5, please check out our latest release notes.
If you are currently in maintenance for CALPUFF View and did not receive an email regarding this update, please contact us at sales@webLakes.com.
If you are a user of CALPUFF View but are no longer in maintenance, please contact sales@webLakes.com for pricing to update your license.
Lakes Environmental AERMOD Course in London, UK – Apr 3-4, 2017
AERMOD & CALPUFF Courses in Las Vegas – May 1-5, 2017 - A Few Spots Left!
Lakes Environmental will be hosting a full week of AERMOD and CALPUFF training in Las Vegas from May 1 to 5, 2017.




The CALPUFF portion of this course will include a special Class I Area Visibility case study and WRF case study for each student's desired location.




Register now to take advantage of our Early Registration Discount ending April 1, 2017. Only a few spots are left!




Course: AERMOD (May 1-2, 2017)
Course: CALPUFF (May 3-5, 2017)
Location: Las Vegas, NV
Contact: training@weblakes.com
Registration: Online Registration
Lakes Environmental & CASANZ AERMOD Course in Auckland, New Zealand
Lakes Environmental Teaching Professional Development Courses at 2017 A&WMA Conference
The Air & Waste Management Association will be offering a variety of high quality professional development courses prior to the annual conference in Pittsburgh.
This year, Lakes Environmental will present a one-day course on AERMOD Air Dispersion Modeling as well as a one-day course on Puff Dispersion Modeling. Please find below additional details regarding these courses.




AIR-299: AERMOD Air
Dispersion Modeling

Sunday, June 4
8:00am – 5:00pm

AIR-262: Puff
Dispersion Modeling

Monday, June 5
8:00am – 5:00pm

Online registration is open now!
Lakes Environmental Closed for Good Friday Holiday
Lakes Environmental's offices will be closed on Friday, April 14, 2017 to observe the Good Friday Holiday. If you have any needs during that time, please e-mail us at support@webLakes.com and we will contact you on Monday, April 17, 2017 when our offices reopen.
Upcoming Courses
Date

Course

Location

Registration

Apr 3-4, 2017

May 1-2, 2017
May 3-5, 2017

May 22-23, 2017

Auckland, New Zealand Sponsored by CASANZ

Jun 4, 2017
Jun 5, 2017

Pittsburgh, PA
Sponsored by A&WMA

Jul 24-25, 2017
Jul 26-27, 2017

Mexico City

Registration
Coming Soon
For more information on the above courses, including registration information, location, and course outlines, please visit our web site: https://www.weblakes.com/courses.html.
Modeling Tip
Time Series Output from AERMOD
The AERMOD model supports many different forms of output to support the needs of modelers. The most common form of output is that of high values – concentrations not paired in time across the domain but ranked in order from highest to lowest for each individual receptor. There are situations which may require the modeler to analyze output from one or more individual hours or averaging periods. For these tasks, AERMOD can prepare an output file called the Post-Processing File (model keyword POSTFILE).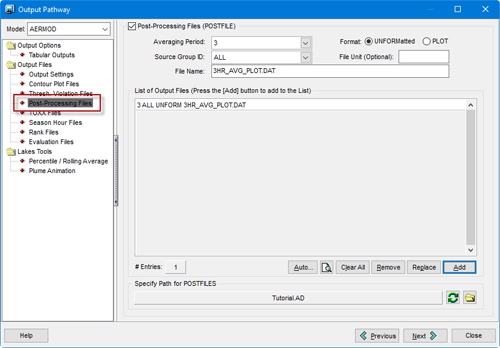 Post-Processing File Options in AERMOD View
Each POSTFILE requires a few input elements:
Averaging Period: Select the time step you wish to analyze. Output for each receptor at each time step will be written to the file. In the screenshot above, output at every 3-hour interval would be published.
Source Group ID: Identify the source group of interest. You can create one POSTFILE for each Averaging Period + Source Group ID combination.
Format: Choose from binary (UNFORM) or ASCII text (PLOT). Use the latter if you want to analyze the output using third-party software (e.g., large text file editors) as the binary option will not be readable.
File Name: Assign a unique file name.
A useful feature of AERMOD View which utilizes the POSTFILE output, is the ability to create hourly Plume Animations. As described in one of our previous Modeling Tips, the Plume Animation option creates a 1-hour average POSTFILE for each selected source group resulting in contour plots for each individual hour. These plots can then be animated and recorded.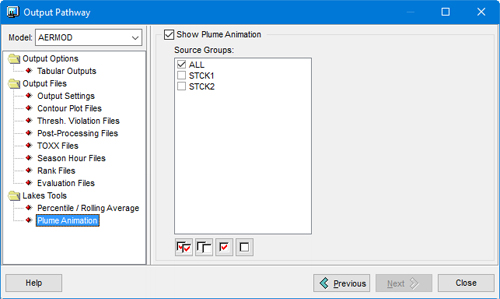 Plume Animation File Options in AERMOD View
One important thing to keep in mind about POSTFILEs is that they can be prohibitively large in size. Make sure you have adequate disk space before starting your model run to avoid run failures.
Submit Your Modeling Tips Today!
We are currently accepting submissions for the Monthly Modeling Tip section that appears in our newsletters. If you have a modeling tip that may benefit our readers, please send it to us at support@webLakes.com. Your name and the name of your organization will appear below the tip providing you with an opportunity for increased exposure.
Articles
Chinese Premier Promises Faster Progress to Cut Air Pollution
March 5, 2017 - Chinese Premier Li Keqiang pledged Sunday to make the country's smoggy skies blue again and "work faster" to address pollution caused by the burning of coal for heat and electricity.
His words to delegates at the opening of the annual National People's Congress highlight how public discontent has made reducing smog, the most visible of China's environment problems, a priority for the leadership. The 10-day event got underway under a sunny blue sky, thanks to heavy gusts from the north that cleared away the unhealthy gray from the day before.
The Cost of a Polluted Environment: 1.7 Million Child Deaths a Year, says WHO
March 5, 2017 - More than 1 in 4 deaths of children under 5 years of age are attributable to unhealthy environments. Every year, environmental risks – such as indoor and outdoor air pollution, second-hand smoke, unsafe water, lack of sanitation, and inadequate hygiene – take the lives of 1.7 million children under 5 years, say two new WHO reports.
The first report, Inheriting a Sustainable World: Atlas on Children's Health and the Environment reveals that a large portion of the most common causes of death among children aged 1 month to 5 years – diarrhea, malaria and pneumonia – are preventable by interventions known to reduce environmental risks, such as access to safe water and clean cooking fuels.
Steep Cuts to EPA, End of Reporting of Methane Emissions Proposed in D.C.
March 2, 2017 - The Environmental Protection Agency said Thursday it is withdrawing an Obama-era request that oil and natural gas companies provide information on methane emissions at oil and gas operations.
EPA Administrator Scott Pruitt said the withdrawal is effective immediately, adding that he wants to assess the need for the information the agency has been collecting under a directive issued in November.
Stuttgart Residents Sue Mayor for 'Bodily Harm' Caused by Air Pollution
March 2, 2017 - On a frosty Friday evening at the end of January, after her usual walk around her central Stuttgart neighbourhood, Susanne Jallow felt an unusual cough and irritation in her throat.
Jallow, 54, lives in Neckartor, an area chock-a-block with residential buildings hugged by a busy road, B14, which handles around 100,000 vehicles a day.
Neckartor is a hotspot for air pollution, not just in Stuttgart but in the whole of Germany. PM10 values (coarse dust particles between 10 and 2.5 micrometres in diameter) recorded on sensors installed in the busy intersection of B14 often hit around 200 micrograms per cubic metre (µg/m³). EU standards set the top limit of safe PM10 levels at 50µg/m³.
Upcoming Conferences & Trade Shows
Mar 21-23, 2017

Americana 2017
More Info

Montréal, QC, Canada

Apr 2-4, 2017

2nd International Conference on Air, Water, and Soil Pollution and Treatment (AWSPT'17)
More Info

Barcelona, Spain

Apr 9-14, 2017

41st Stationary Source Sampling & Analysis for Air Pollutants Conference
More Info

Tucson, AZ, USA

May 1-3, 2017

CANECT 2017
More Info

Mississauga, ON, Canada

May 4-5, 2017

ICECC 2017: 19th International Conference on Environment and Climate Change
More Info

Rome, Italy

May 11-12, 2017

2017 Ontario Climate Symposium
More Info

Toronto, ON, Canada

May 24-25, 2017

The Air Quality and Emissions Show
More Info

Telford, UK

May 25-26, 2017

19th International Conference on Air Pollution and Control
More Info

London, UK

Jun 5-8, 2017

110th Air & Waste Management Association's Annual Conference & Exhibition (ACE)
More Info
Lakes Environmental will be at booth #607

Pittsburgh, PA, USA

Jun 5-8, 2017

Asia Clean Energy Forum 2017
More Info

Manila, Philippines

Aug 14-18, 2017

2017 International Emissions Inventory Conference
More Info

Baltimore, MD, USA
About this Newsletter
This newsletter contains information gleaned from various sources on the web, with complete links to the sources cited. Organizations cited are in no way affiliated with Lakes Environmental Software.
Lakes Environmental Software is a leading environmental IT company that offers a complete line of air dispersion modeling, risk assessment, emissions inventory, and emergency release software as well as training and custom software services. With satisfied users located around the globe, Lakes Environmental Software will continue to revolutionize the environmental software field.
For more information please visit our web site at: www.webLakes.com. You may also contact us by phone at (519) 746-5995.
All comments and suggestions are welcome. You can e-mail us at: support@webLakes.com.