Lakes Environmental Newsletter
Emissions Inventory - Atmospheric Science - IT Solutions


In this issue:
News & Events
AQMIS Emissions Inventory Webinar!
On Tuesday, April 10th we will hold a FREE 30-minute webinar regarding the Emissions Inventory module in AQMIS.




This is the second webinar in our AQMIS series. Please register for the time slot that best suits your schedule using the links below.



Safe Communication with Connect™ Webinar!
Join us on Tuesday, April 3rd for a FREE 30-minute webinar on Zebu Connect, a rich team communication platform that improves your productivity and facilitates communication with your coworkers on a daily basis.
Consulting companies, lawyers, and facilities around the world must comply with strict confidentiality requirements. Connect is the only easy and secure communication tool that allows you to transparently exchange information in encrypted form. Connect has a world of features that awaits you!
Connect is a product from Zebu Infrastructure Online (ZEBU.IO), who creates cloud-based software solutions for the Enterprise Market, incubated by Lakes Environmental.




Register for this FREE event today using one of the links below:



AERMOD & CALPUFF Courses in Las Vegas – April 30 – May 4, 2018
AERMOD and Risk Assessment Courses in Sydney, Australia – May 14-17, 2018
AERMOD-CALPUFF Course in Gauteng, South Africa – Jul 16-19, 2018
Lakes Environmental and the National Association for Clean Air (NACA) invite you to participate in a 4-day AERMOD-CALPUFF training course taking place in Gauteng, South Africa from July 16 to 19, 2018.
AERMOD-CALPUFF Course in Dubai, UAE – Oct 15-18, 2018
Lakes Environmental Closed for Good Friday Holiday
Lakes Environmental's offices will be closed on Friday, March 30th, 2018 to observe Good Friday holiday. If you have any needs during that time, please e-mail us at support@webLakes.com and we will contact you on Monday, April 2, 2018 when our offices reopen.
Upcoming Courses
Date

Course

Location

Registration

Apr 30-May 1, 2018
May 2-4, 2018

May 14-15, 2018

May 16-17, 2018

Jul 16-19, 2018

Sep 17-18, 2018
Sep 19-21, 2018

San Francisco, CA

Registration
Coming Soon

Oct 4-5, 2018

Toronto, ON

Registration
Coming Soon

Oct 15-18, 2018

Nov 26-28, 2018

São Paulo, Brazil

Registration
Coming Soon
1Sponsored by CASANZ
2Sponsored by NACA
For more information on the above courses, including registration information, location, and course outlines, please visit our web site: https://www.weblakes.com/courses.html.
Modeling Tip
Choosing Pollutants in CALPUFF
Last month, we reviewed AERMOD's pollutant type selection which is natively limited to a single pollutant per model run. The CALPUFF model, on the other hand, is capable of modeling multiple pollutants at a time and includes chemical transformations.
In CALPUFF View selection of pollutants to model is done via the CALPUFF | Species & Deposition settings.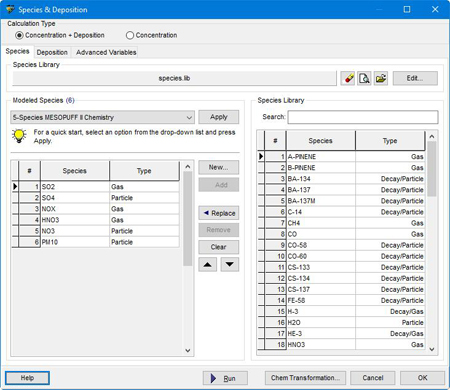 CALPUFF View's Species & Deposition Window
There are several components involved in the species selection.
Species Library
A default species library (species.lib) accompanies the application. This library includes dry and wet deposition parameters for 21 gas-based species and 25 particle species as well as parent and child ratios for 23 radiological decay species. Depositional parameters for the gases and particles can be modified using the

button. Modelers can also supply their own custom species library, if desired.
Modeled Species
The left-hand panel lists the species that will be modeled. Modelers can select their own pollutants or use the provided drop-down list to quick-select standard species for CALPUFF's integrated chemical transformation schemes. Schemes include:
MESOPUFF II: Pseudo-first-order chemical reaction mechanism for conversion of SO2 to SO4 and total NOx to NO3.
RIVAD: Treats the NO & NO2 conversion process in addition to the NO2 to total NO3 and SO2 to SO4 conversions.
Secondary Organic Aerosols (SOA): Simulates transformations of aromatic compounds, biogenic hydrocarbons, and relevant mixtures in yielding organic aerosol.
Fog: Modeling for visible plumes.
Nuclear Decay: Models radiological decay rates of species defined in the default library.
Modelers can also choose to add additional species to the pre-defined lists. Note that not all defined pollutants must be emitted by sources, but placeholder species are required for the selected chemical transformation process. When modeling the MESOPUFF II scheme, for example, SO4 and NO3 may not be directly emitted but will be formed by the model during its processing.
Also, the specific order of species is important to the model. The

buttons can be used to maintain that order.
Species List
The list of available species is displayed on the right-hand panel. Multiple species can be selected using the Ctrl key. Use the

button to add the selected species to the Modeled Species list. The

button can be used to replace an existing species with a different one without losing any emission rates already defined in the project.
Chemical Transformation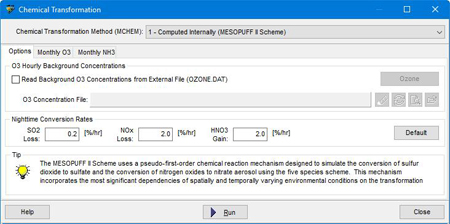 CALPUFF View's Chemical Transformation Window – MESOPUFF II Method
The Chemical Transformation window is used in concert with the Species & Deposition selections to define the transformation method and any associated information such as conversion rates, background concentrations, and monthly ozone / ammonia / SOA / H2O2 values.
Submit Your Modeling Tips Today!
We are currently accepting submissions for the Monthly Modeling Tip section that appears in our newsletters. If you have a modeling tip that may benefit our readers, please send it to us at support@webLakes.com. Your name and the name of your organization will appear below the tip providing you with an opportunity for increased exposure.
Articles
Indonesia to Reduce Air Pollution Ahead of Asian Games
March 7, 2018 - The 2018 Asian Games is just six months away and the Indonesian government has decided to focus on air quality in the host cities of Jakarta and Palembang, South Sumatra, given the high level of air pollution in the country.
The Environment and Forestry Ministry recently informed President Joko Widodo that the country needed to use cleaner gasoline - of a standard known as EURO IV - to reduce air pollution from petrol-guzzling vehicles.
Speaking after a Cabinet meeting to discuss the country's readiness to host this year's Games, Coordinating Maritime Affairs Minister Luhut Panjaitan confirmed that reducing air pollution had already been on the government's agenda ahead of the prestigious sporting event.
German Court Rules Cities Can Ban Vehicles to Tackle Air Pollution
February 27, 2018 - Germany's highest administrative court ruled on Tuesday that vehicles can be banned from some city streets as part of efforts to improve air quality in urban areas, a decision that could have far-reaching consequences for the country's automakers and the diesel technology they promoted for decades.
Other European countries have taken measures to reduce the number of diesel-powered cars, but the technology is almost synonymous with Germany, where there are 15 million diesel cars on the streets and where automakers bet their futures on technology they billed as environmentally friendly, even as they rigged software in their cars to pass stringent emissions tests.
Brussels to Make Public Transport Free on High Air Pollution Days
February 26, 2018 - Brussels has moved to make the city's public transport and bike share system free on the smoggiest days in a bid to drive down pollution levels and meet EU air quality directives.
After two consecutive days of high particulate matter (PM) levels – defined as surpassing an average of 51-70 micrograms per cubic metre of air – buses, trams and metros would have to open their doors completely free, under new city council rules.
Speed limits for cars would be also cut by about a third and wood burning for stoves would be banned under the law, which was forwarded for judicial review last week.
EPA Approves State of Arkansas' Plan for Air Permitting and Enforcement Programs
February 8, 2018 - The U.S. Environmental Protection Agency (EPA) approved the state of Arkansas' plan for administering programs related to the National Ambient Air Quality Standards (NAAQS). Pollutants regulated under these standards include ozone, lead, fine particulate matter, nitrogen dioxide and sulfur dioxide.
"EPA believes states are best suited to run their air-quality programs," said Regional Administrator Anne Idsal. "Arkansas has demonstrated its monitoring, enforcement, and public notification programs are protective of the public's health and the environment."
York University Research Explains Why Global Responses to Pandemics Are Too Slow
January 24, 2018 - New research out of York University shows that political dilly-dallying delays global responses to emerging pandemics more than poor surveillance capacity.
Steven J. Hoffman, professor in the Dahdaleh Institute for Global Health Research, Faculty of Health and Osgoode Hall Law School and his colleague Sarah L. Silverberg, conducted an analysis of the three most recent pandemics – H1N1, Ebola and Zika. These were used as case studies to identify and compare sources of delays in responding to pandemics and examine what influences the length of delays.
For additional environmental news, visit the Environmental News Network (ENN), the most
dependable online environmental news source!

Upcoming Conferences & Trade Shows
Apr 8-10, 2018

3rd International Conference on Air, Water, and Soil Pollution and Treatment (AWSPT'18)
More Info

Budapest, Hungary

May 8-10, 2018

Canadian Environmental Conference and Tradeshow (CANECT) 2018
More Info

Vaughan, ON, Canada

May 14-15, 2018

20th International Conference on Air Pollution and Control
More Info

London, United Kingdom

May 14-18, 2018

36th International Technical Meetings (ITM) on Air Pollution Modelling and its Application
More Info

Ottawa, ON, Canada

May 15-16, 2018

Texas Commission on Environmental Quality Environmental Trade Fair & Conference
More Info
Lakes Environmental will be at booth #1242


Austin, TX, USA

Jun 4-8, 2018

Asia Clean Energy Forum 2018
More Info

Manila, Philippines

Jun 19-21, 2018

Air Pollution 2018: 26th International Conference on Modelling, Monitoring and Management of Air Pollution
More Info

Naples, Italy

Jun 25-28, 2018

111th Air & Waste Management Association's Annual Conference & Exhibition (ACE)
More Info
Lakes Environmental will be at booth #100

Hartford, CT, USA
About this Newsletter
This newsletter contains information gleaned from various sources on the web, with complete links to the sources cited. Organizations cited are in no way affiliated with Lakes Environmental Software.
Lakes Environmental Software is a leading environmental IT company that offers a complete line of air dispersion modeling, risk assessment, emissions inventory, and emergency release software as well as training and custom software services. With satisfied users located around the globe, Lakes Environmental Software will continue to revolutionize the environmental software field.
For more information please visit our web site at: www.webLakes.com. You may also contact us by phone at (519) 746-5995.
All comments and suggestions are welcome. You can e-mail us at: support@webLakes.com.