Lakes Environmental e-Newsletter
Emissions, Air Pollution, GIS and Risk Assessment


In This Issue:
News & Events
Upcoming Courses
Modeling Tip - Automated Import of Terrain
USEPA to Hold Public Hearing on Air Quality Standards for Sulfur Dioxide
USEPA Releases Annual Enforcement Results and Mapping Tool
Power Plants Continue to Decrease SO2 Emissions under EPA Cap and Trade Program
USEPA Releases New Mobile Source Emissions Model
USEPA Symposium for Clean Air in Nation's Schools
Other Articles
Upcoming Conferences & Trade Shows
News & Events
AERMOD & CALPUFF Courses in Toronto
Lakes Environmental will be heading to Toronto on February 8 and 9 to hold a 2-day AERMOD course. Spots are filling up quickly so act now to

attend! Please contact us at training@weblakes.com or check the Upcoming Courses section on our website to register.

The CALPUFF course which was previously scheduled to take place in Toronto on February 10-12th will now be taking place at our offices in Waterloo. Dates will remain the same. There are only five seats left so if you are interested in attending please ensure you send in your completed registration form in order to secure your spot. Click here to register today!
Newsletter Promotion!

Register for one of our 2010 AERMOD courses today and mention promotion code lk011310 to receive 15% off your registration fee!

*Additional course discounts offered will not apply
Product Spotlight - AERMOD Courses
Since 1998 Lakes Environmental has provided air dispersion modeling training to countless professionals from EPA offices, state agencies, consulting firms, and industrial companies worldwide and we continue to receive outstanding results.
Our success is credited to our well structured classes, expert instructors, small class sizes, personal computer access, and extensive course materials. 
The Lakes Environmental AERMOD course is intended for air quality professionals working, or
planning to work, in the assessment of air pollution impact.  This course not only emphasizes the importance of AERMOD's theoretical application, but also its practical hands-on functionality. 
At the end of this course the attendee will be able to understand the basics of regulatory air dispersion modeling and to use screening and refined models for permit applications and risk assessments. Students will work on case studies using AERMOD View and go home with a course CD including FREE downloads for Screen View, WRPLOT View, and Percent View.  Also included, are course files for case studies reviewed during training, additional case study exercises not covered in training as well as links to key modeling resources.
Just for attending our AERMOD course, you are eligible to receive a 10% discount on the purchase of our popular AERMOD View software. 
For more detailed information on our AERMOD course and upcoming training schedule, please visit the Upcoming Courses section on our website.
Outline
|
Testimonials
|
FAQs
Lakes Environmental Closed For Ontario Family Day Holiday
Lakes Environmental will be closed on Monday, February 15th, 2010 to observe Ontario's Family Day Holiday.  If you have any pressing needs during that time, please e-mail us at support@weblakes.com and we will contact you on February 16th, 2010 when our offices reopen.
Upcoming Courses
Date

Course

Location

Registration

Jan 25-26, 2010

Feb 08-09, 2010

Feb 10-12, 2010

Feb 22-23, 2010

Mar 15-16, 2010
Mar 17-19, 2010

Apr 12-13, 2010

May 10-11, 2010

May 12-14, 2010
For more information on the above courses, including registration information, location, and course outlines, please visit our web site: https://www.weblakes.com/courses.html.
Modeling Tip
Automatic Import of Terrain in AERMOD View
The Terrain Processor in AERMOD View has the ability to automatically download terrain data for your project site from WebGIS (www.webgis.com). This feature allows you to quickly and easily obtain terrain elevations for your project, no matter where it is in the world.
Terrain Data Formats

Several different data formats are available for automatic download, each having different resolutions and areas of coverage.  The different formats are explained in the following table.
| | | |
| --- | --- | --- |
| Format | Coverage | Resolution |
| | USA | ~30m |
| | Global | ~90m |
| | Global | ~900m |
| | USA | ~30m |
| | USA | ~90m |
| DEM, 15 minute | Canada | ~60m |
| | Global | ~900m |
Using the Automatic Download Feature
A brief video tutorial explaining the use of the automatic terrain download is available below.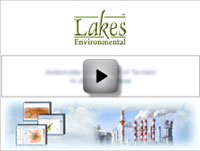 View Video
Submit Your Modeling Tip Today!
We are currently accepting submissions for the Monthly Modeling Tip that appears in our newsletters. If you have a modeling tip that may benefit a variety of people, please send it to us at support@weblakes.com. Your name and the name of your organization will appear below the tip providing you with greater exposure.
Articles
USEPA to Hold Public Hearing on Air Quality Standards for Sulfur Dioxide
WASHINGTON – The U.S. Environmental Protection Agency (USEPA) held a public hearing on the agency's proposal to strengthen the nation's sulfur dioxide (SO2) standards, this past January 5th, 2010.. USEPA believes that exposure to SO2 can aggravate asthma, cause respiratory difficulties, and result in emergency room visits and hospitalization. People with asthma, children, and the elderly are especially vulnerable to SO2's effects. USEPA is taking comment on a proposal to establish a new national one-hour SO2 standard, between 50 and 100 parts per billion. According to USEPA this standard is designed to protect against short-term exposures ranging from five minutes to 24 hours. Because the revised standards would be more protective, USEPA is proposing to revoke the current 24-hour and annual SO2 health standards.
USEPA will accept written comments on the proposed rule until February 8, 2010. More information on the proposed rule and instructions for submitting written comments: https://www.epa.gov/air/sulfurdioxide.
USEPA Releases Annual Enforcement Results and Mapping Tool
WASHINGTON – On December 23, 2009 the U.S. Environmental Protection Agency (USEPA) released the enforcement report for fiscal year 2009 with a new Web-based tool and interactive map that allows the public to get detailed information by location about the enforcement actions taken at approximately 4,600 facilities.
This new mapping tool allows the public to view the locations of facilities that were the subject of those enforcement actions on interactive maps of the U.S. and territories. The maps show facilities where civil enforcement actions were taken for environmental laws for air, water, and land pollution, and a separate map shows criminal enforcement actions.
USEPA mapped the locations of more than 90 percent of the facilities that were the subject of enforcement actions last year. These maps do show the locations of drinking water treatment plants due to potential security concerns.
For the past 10 years, EPA has described annual enforcement results by focusing primarily on two measures, the estimated pounds of pollutants reduced and estimated cost of commitments made by defendants to control or reduce pollution. These measures vary significantly from year to year and are dependent upon the number of large cases that settle in a given year.
In FY2009, EPA concluded enforcement actions requiring polluters to invest more than $5 billion on pollution controls, cleanup, and environmental projects. Civil and criminal defendants committed to install controls and take other measures to reduce pollution by approximately 580 million pounds annually once all required controls are fully implemented.
More information
Power Plants Continue to Decrease SO2 Emissions under EPA Cap and Trade Program
WASHINGTON — The U.S. Environmental Protection Agency (USEPA) announced December 11, 2009 that power plants across the country decreased emissions of sulfur dioxide (SO2) to 7.6 million tons in 2008. Emissions from sources in the Acid Rain Program fell by 52 percent compared with 1990 levels and are already below the statutory annual emission cap of 8.95 million tons set for compliance in 2010.
USEPA highlighted the key achievements of the Acid Rain Program including:

1. All 3,572 electric generating units subject to the program's SO2 requirements held enough allowances to cover their SO2 emissions, resulting in 100 percent compliance in 2008; 

2. Emission reductions under the Acid Rain Program have led to improvements in air quality with significant benefits to human health; and

3. Sensitive water bodies in the east are showing signs of recovery from acidification.
The Acid Rain Program was established under the 1990 Clean Air Act Amendments and requires major emission reductions of SO2 and nitrogen oxides (NOx) from the electric power industry. The program sets a permanent cap on the total amount of SO2 that may be emitted by electric generating units in the United States, and includes provisions for trading and banking allowances. The program is phased in, with a final 2010 SO2 cap set at 8.95 million tons, a level of about one-half of the emissions from the power sector in 1980.
More information on the Acid Rain Program report
USEPA Releases New Mobile Source Emissions Model
WASHINGTON - An updated version of the Motor Vehicle Emission Simulator (MOVES) model – MOVES2010 – is now available for use to estimate air pollution from cars, trucks, and other on-road mobile sources. The model can also calculate the emissions reduction benefits from a range of mobile source control strategies, such as inspection and maintenance programs and local fuel standards.
 
The USEPA plans to publish a Federal Register notice approving MOVES2010 for meeting official state implementation plan and transportation conformity requirements. The MOVES2010 model replaces EPA's MOBILE6.2 emissions factor model, which was released in 2004.
For the first time, the model can estimate emissions on a range of scales from national emissions impacts down to the impacts of individual transportation projects. Another improvement is the ability to express output as either total mass (in tons, pounds, kilograms, or grams) or as emissions factors (grams-per-mile, and in some cases, grams-per-vehicle). These changes to how USEPA approaches mobile source emissions modeling are based, in part, upon recommendations made to the agency by the National Academy of Sciences.

More information on the MOVES2010 model
USEPA Symposium for Clean Air in Nation's Schools
WASHINGTON - School districts leading the way to prevent and solve indoor air quality problems in schools were honored at the U.S. Environmental Protection Agency's (USEPA) 10th Indoor Air Quality Tools for Schools National Symposium in Wash., D.C., Jan. 14-16. USEPA created the Tools for Schools program a decade ago to address a range of indoor air quality and related problems in school buildings, including respiratory problems, headaches and nausea, and an alarming rise in asthma and allergies among schoolchildren.
The Indoor Air Quality Tools for Schools program is a comprehensive resource to help schools maintain a healthy environment in school buildings by identifying, correcting, and preventing indoor air quality (IAQ) problems. A study conducted by the Centers for Disease Control and Prevention (CDC) found that about half of the nation's schools now have IAQ management programs in place, up from about one-fourth of schools in 2002. 
More information on the symposium
More information on USEPA's IAQ Tools for Schools program
New Smog Rule Could Surprise Some Counties
LOS ANGELES (Jan. 8, 2010) - Parts of the country that haven't worried about air pollution may soon be in the fight California has faced for decades: cleaning up smog.

Stricter rules proposed Thursday by the Obama administration could more than double the number of counties across the country that are in violation of clean air standards. That would likely have a big impact on other parts of the nation since California already sets stringent standards for cars, ships and trucks.

"This kind of levels the playing field," said Leo Kay, spokesman for the California Air Resources Control Board. "In California we've set pretty tough air pollution standards for a long time now and this brings the rest of the country to the same level."
Read Article
US EPA Proposes Stricter Ozone Standards
(Jan. 8, 2010) – The United States Environmental Protection Agency proposed new stricter health standards for Ozone. Ozone is linked to a number of serious health problems, ranging from aggravation of asthma to increased risk of premature death in people with heart or lung disease. Ozone can also harm healthy people who work and play outdoors.
Children are at the greatest risk from ozone, because their lungs are still developing, they are more likely to be active outdoors, and they are more likely than adults to have asthma. Adults with asthma or other lung diseases, and older adults are also sensitive to ozone.
Read Article
Feedback Accelerates Arctic Ice Melt — Canada, Alaska Most Pronounced
(Jan. 10, 2010 ) - Scientists at NASA and the National Snow and Ice Data Center published research last week in the Journal of Geophysical Research based on satellite microwave data of seasonal Arctic ice thaw from 1970 to 2009. The study indicates the seasonal Arctic sea ice melt melt season is now about 20 days longer than it was 30 years ago.
The growing season of thaw is most pronounced in Arctic waters off the coasts of Alaska and Canada, including the Chukchi and Beaufort seas, where the season is 30 days longer now than in 1979. East Greenland and the Hudson Bay also share nearly a month longer of seasonal melt. The Hudson Bay exhibits one of the fastest increases in seasonal melt on the globe.
Read Article
EPA Seeks Grant Applications to Fight Climate Change
WASHINGTON (Jan. 9, 2010) - The U.S. Environmental Protection Agency (EPA) today announced it is making up to $5 million in grants available to U.S. and international organizations to fund innovative, international methane reduction and use projects that cut global climate pollution.

The grants will be issued through the Methane to Markets Partnership, a public-private partnership that reduces greenhouse gas (GHG) pollution by promoting the cost-effective, near-term recovery and use of methane, a GHG that is more than 20 times more potent than carbon dioxide.
Read Article
Giant Carbon "Vault" Proposed Near New York City
(Jan. 4, 2010) – Several new underwater "vaults" that could stash the potent greenhouse gas carbon dioxide have been found—and one of them is right outside New York City, a new study says.

Such close-in vaults would be convenient, but could pose an earthquake risk, experts say.

Some of Earth's largest ancient lava flows lie below the Atlantic Ocean seafloor not far from the Big Apple.

The vault regions include rubble-filled, fractured, and otherwise porous volcanic layers in which massive amounts of liquid CO2 could be safely stored, the research found.
Read Article
Upcoming Conferences & Trade Shows
Date

Conference

Location

Jan. 18-31, 2010

World Future Energy Summit
More Info

Abu Dhabi, UAE

Feb. 1-3, 2010

13th Energy & Environment Conference (EUEC)
More Info

Phoenix, Arizona, USA

Feb. 23-25, 2010

Renewable Energy World Conference & Expo North America
More Info

Austin, TX, USA

Feb. 26-28, 2010

The 2010 International Conference on Environmental Science and Development (CESD 2010)
More Info

Singapore

Mar. 7-9, 2010

Gulf Environment Forum
More Info

Jeddah, Saudi Arabia

Mar. 21-24, 2010

WEF/A&WMA Odors and Air Pollutants 2010
More Info

Charlotte, NC, USA

Mar. 24-26, 2010

GLOBE 2010
More Info

Vancouver, BC, Canada

Apr. 12-16, 2010

Energy & Environment Week
More Info

Pittsburgh, PA, USA

Apr. 28-29, 2010

2nd Motorship Propulsions and Emissions Conference
More Info

Hamburg, Germany

May. 3-4, 2010

2010 Canadian Environmental Conference and Tradeshow (CANECT 2010) - Lakes Environmental will be at booth 2103!
More Info

Toronto, Ontario, Canada

Jun. 22-25, 2010

A&WMA 103rd Annual Conference and Exhibition
More Info - Lakes Environmental will be at booth 701!

Calgary, Alberta, Canada
About this Newsletter
This newsletter contains information gleaned from various sources on the web, with complete links to the sources cited. Organizations cited are in no way affiliated with Lakes Environmental Software.
Lakes Environmental Software is a leading environmental IT company that offers a complete line of air dispersion modeling, risk assessment, emissions inventory, and emergency release software as well as training and custom software services. With satisfied users located around the globe, Lakes Environmental Software will continue to revolutionize the environmental software field.
For more information please visit our web site at: www.weblakes.com. You may also contact us by phone at (519) 746-5995 or by fax at (519) 746-0793.
All comments and suggestions are welcome. You can e-mail us at: support@weblakes.com.
Please click the link below to subscribe or unsubscribe from this newsletter:
Subscribe/Unsubscribe