Lakes Environmental Newsletter
Emissions Inventory - Atmospheric Science - IT Solutions


In this issue:
News & Events
AERMOD Course in Toronto, Canada – Oct 4-5, 2018 - Only 2 Spots Left!
Lakes Environmental will hold two days of AERMOD training in Toronto from October 4 to 5, 2018.




Register today before space is gone!




| | |
| --- | --- |
| Course: | AERMOD (Oct 4-5, 2018) |
| Location: | |
| Contact: | |
| Registration: | |
AERMOD Course in São Paulo, Brazil – Oct 8-9, 2018
Lakes Environmental will present a 2-day AERMOD course in São Paulo, Brazil from October 8 to 9, 2018. Register online now!




Presentation of the course will be in Portuguese with all course materials (presentation slides, course notes, etc) provided in English.




| | |
| --- | --- |
| Course: | AERMOD (Oct 8-9, 2018) |
| Location: | |
| Contact: | |
| Registration: | |
AERMOD-CALPUFF Course in Dubai, UAE – Oct 29 - Nov 1, 2018
Lakes Environmental will travel to Dubai, UAE to hold a 4-day AERMOD-CALPUFF course from October 29 to November 1, 2018.




Don't miss out on this unique opportunity to receive training in the UAE! Save 10% up to September 28, 2018. Register online today!




| | |
| --- | --- |
| Course: | |
| Location: | |
| Contact: | |
| Registration: | |
AERMOD Course in Orlando, Florida – Nov 1-2, 2018 - Discount Extended!
Lakes Environmental will be in sunny Orlando for two days of AERMOD training from November 1 to 2, 2018.




Our early registration discount has been extended until September 28, 2018. Register today and receive 10% off!




| | |
| --- | --- |
| Course: | AERMOD (Nov 1-2, 2018) |
| Location: | |
| Contact: | |
| Registration: | |
Lakes Environmental AERMOD-CALPUFF Course in Mexico City – Nov 12-15, 2018
Lakes Environmental will hold a 4-day AERMOD-CALPUFF course in Mexico City from November 12 to 15, 2018.




This course will be hosted by our Mexican distributor, Modelos Ambientales. Register online now!




| | |
| --- | --- |
| Course: | |
| Location: | |
| Contact: | |
| Registration: | |
Lakes Environmental Announces 2019 Training Courses
Global Air Dispersion Modeling Course dates and locations for the first half of 2019 are listed below and can also be found by visiting our website. Join us for world class training with our team of senior level air quality experts!
| | | |
| --- | --- | --- |
| Feb 18-22 | | |
| Feb 25-26 | | Toronto, Ontario |
| May 6-10 | | |
| May 27-28 | | |
Online registration is now open! Save 10% on your registration for a limited time only!
Lakes Environmental Closed for Canadian Thanksgiving Holiday
Lakes Environmental's offices will be closed on Monday, October 8, 2018 to observe the Canadian Thanksgiving holiday. If you have any needs during that time, please e-mail us at support@webLakes.com and we will contact you on Tuesday October 9, 2018 when our offices reopen.
Upcoming Courses
Date

Course

Location

Registration

Oct 4-5, 2018

Oct 8-9, 2018

Oct 29 - Nov 1, 2018

Nov 1-2, 2018

Nov 12-15, 2018

Feb 18-19, 2019
Feb 20-22, 2019

Feb 25-26, 2019

Toronto, ON

Registration
Coming Soon

May 6-7, 2019
May 8-10, 2019

May 27-28, 2019
For more information on the above courses, including registration information, location, and course outlines, please visit our web site: https://www.weblakes.com/courses.html.
Modeling Tip
Identifying COPCs with IRAP-h View
Previous Modeling Tips have looked at how to select pollutants in air quality models (AERMOD, CALPUFF). This month, we look at how to handle contaminants for a human health risk assessment project.
IRAP-h View, the Lakes-developed interface for conducting multi-pathway health risk assessment in accordance with the U.S. EPA OSW Human Health Risk Assessment Protocol (HHRAP), can analyze impacts from hundreds of unique compounds of potential concern (COPCs). Compounds include metals, organic compounds which survive the combustion process, and organic compounds which are formed immediately after combustion. There is no universal list of COPCs and should be selected based upon stack testing and facility-specific process information.
HHRAP includes Chemical Abstracts Service (CAS) numbers for over 200 individual compounds. These COPCs and their respective properties are available in IRAP-h View's COPC Database accessible via the View menu or the Source Parameters | COPC Emissions settings.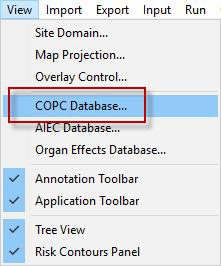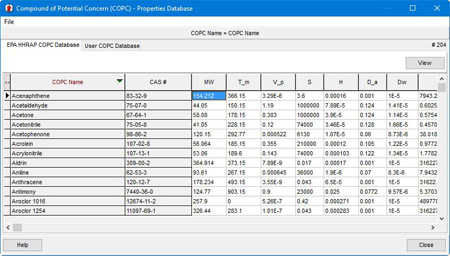 If non-listed COPCs are being analyzed, IRAP-h View allows for user-defined compounds to be added via the User COPC Database.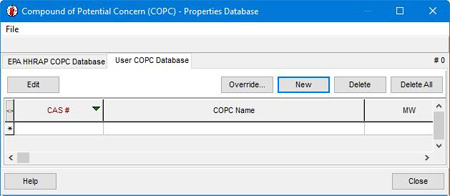 Select New to add a compound, then double-click the row to open the Chemical Parameters dialog. This allows you to quickly input all relevant properties, biotransfer factors, and health benchmarks.
To add compounds to an IRAP-h View project, go the Source Parameters | COPC Emissions tab. COPCs are selected directly from the Database, and the emissions input in grams per second. COPCs and emissions can also be defined in CSV format and imported using the Emission Rate Import Wizard.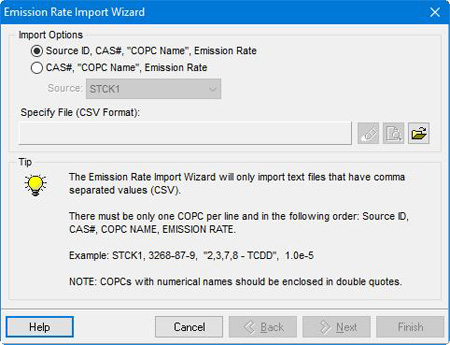 Submit Your Modeling Tips Today!
We are currently accepting submissions for the Monthly Modeling Tip section that appears in our newsletters. If you have a modeling tip that may benefit our readers, please send it to us at support@webLakes.com. Your name and the name of your organization will appear below the tip providing you with an opportunity for increased exposure.
Articles
Many Arctic Pollutants Decrease After Market Removal and Regulation
August 28, 2018 - Levels of some persistent organic pollutants (POPs) regulated by the Stockholm Convention are decreasing in the Arctic.
A study finds the Stockholm Convention having an impact according to an international team of researchers who have been actively monitoring the northern regions of the globe.
EPA Proposes Affordable Clean Energy (ACE) Rule
August 21, 2018 - Today, the U.S. Environmental Protection Agency (EPA) proposed a new rule to reduce greenhouse gas (GHG) emissions from existing coal-fired electric utility generating units and power plants across the country. This proposal, entitled the Affordable Clean Energy (ACE) Rule, establishes emission guidelines for states to use when developing plans to limit GHGs at their power plants. The ACE Rule replaced the prior administration's overly prescriptive and burdensome Clean Power Plan (CPP) and instead empowers states, promotes energy independence, and facilitates economic growth and job creation.
Environmental Regulations Drove Steep Declines in U.S. Factory Pollution
August 9, 2018 - The federal Clean Air Act and associated environmental regulations have driven steep declines in air pollution emissions over the past several decades, even as U.S. manufacturers increased production, a study by two University of California, Berkeley, economists has shown.
The study, forthcoming in the American Economic Review, found that polluting emissions from U.S. manufacturing fell by 60 percent between 1990 and 2008—a period in which manufacturing output grew significantly—primarily because manufacturers adopted cleaner production methods in tandem with increasingly strict environmental regulation.
California Strikes Back Against Trump Over Vehicle Air Pollution Rules
August 7, 2018 - California struck back at the Trump administration over air pollution Tuesday, unveiling a proposal that would force automakers to comply with the state's strict standards for tailpipe emissions even as the federal government moves to weaken the rules.
The proposal, released by the California Air Resources Board, sharpens the conflict between the state and President Donald Trump over greenhouse gas emissions and attempts to reinforce the state's ability to chart its own destiny in the fight against climate change.
For additional environmental news, visit the Environmental News Network (ENN), the most
dependable online environmental news source!

Upcoming Conferences & Trade Shows
Sep 21-22, 2018

6th International conference on Marine Science, Coastal Dynamics and Management
More Info

Dallas, TX, USA

Oct 29-30, 2018

20th International Conference on Earth Science and Climate Change (ICESCC 2018)
More Info

Paris, France

Oct 30-Nov 1, 2018

WHO's First Global Conference on Air Pollution and Health
More Info

Geneva, Switzerland

Nov 4-8, 2018

SETAC North America 39th Annual Meeting
More Info

Sacramento, CA, USA

Nov 14-16, 2018

10th Better Air Quality Conference (BAQ 2018)
More Info

Kuching, Malaysia

Nov 21-22, 2018

International Conference on Environmental Technology and Innovations (ICETI 2018)
More Info

Prague, Czech Republic

Dec 5-6, 2018

9th International Conference on Global Warming, Climate Change and Pollution Control
More Info

Vancouver, BC, Canada

Dec 6-8, 2018

6th International Conference on Environment Pollution and Prevention (ICEPP 2018)
More Info

Brisbane, Australia

Jan 3-5, 2019

The IAFOR International Conference on Sustainability, Energy & the Environment – Hawaii 2019
More Info

Honolulu, HI, USA

Jan 14-17, 2019

World Future Energy Summit
More Info

Abu Dhabi, UAE

Feb 13-15, 2019

10th International Conference on Environmental Science and Development
More Info

Milan, Italy

Feb 25-27, 2019

22nd EUEC 2019: Energy, Utility & Environment Conference
More Info

San Diego, CA, USA
About this Newsletter
This newsletter contains information gleaned from various sources on the web, with complete links to the sources cited. Organizations cited are in no way affiliated with Lakes Environmental Software.
Lakes Environmental Software is a leading environmental IT company that offers a complete line of air dispersion modeling, risk assessment, emissions inventory, and emergency release software as well as training and custom software services. With satisfied users located around the globe, Lakes Environmental Software will continue to revolutionize the environmental software field.
For more information please visit our web site at: www.webLakes.com. You may also contact us by phone at (519) 746-5995.
All comments and suggestions are welcome. You can e-mail us at: support@webLakes.com.