Lakes Environmental Newsletter
Emissions Inventory - Atmospheric Science - IT Solutions


In this issue:
News & Events
Happy Holidays from Lakes Environmental!
Lakes Environmental wishes you and your loved ones a joyous holiday season and a prosperous new year!
With the holiday season upon us, we want to take this opportunity to specially thank you, our subscribers and customers, for reading our newsletter throughout the year. Your feedback and suggestions enable us to continually provide you with the most relevant information in your field of expertise. Thank you once again. We look forward to working with you in 2018!
Please find below the holiday schedule for Lakes Environmental's Waterloo and Dallas offices:
| | |
| --- | --- |
| December 18-22 | Open |
| December 25 | Closed |
| December 26 | Closed |
| December 27-29 | Open |
| January 1 | Closed |




If you have an urgent sales matter requiring assistance during the holidays, please e-mail us at sales@webLakes.com. For urgent matters requiring Technical Support please e-mail support@webLakes.com.
AERMOD and CALPUFF Courses in Dallas, Texas – Feb 5-9, 2018
Lakes Environmental will be in Dallas, to present a full week of AERMOD and CALPUFF training from February 5 to 9, 2018.
Students attending the AERMOD course will learn about the latest US EPA model updates and will also complete a special 1-Hour NO2 NAAQS Case Study.
CALPUFF course students will have the opportunity to complete a Do It Yourself Case Study using WRF processed data for a location of their choice making this course of great benefit to their modeling work.




Early Registration Discount Ends: January 5, 2018




Course: AERMOD (Feb 5-6, 2018)
Course: CALPUFF (Feb 7-9, 2018)
Location: Dallas, Texas
Contact: training@webLakes.com
Registration: Online Registration
AERMOD and CALPUFF Courses in Toronto – Feb 26 – Mar 1, 2018
Lakes Environmental will hold four days of AERMOD and CALPUFF training in Toronto from February 26 to March 1, 2018.
The AERMOD portion of this course will feature a special section and case study regarding the dispersion modeling requirements of Ontario Regulation 419/05: Air Pollution - Local Air Quality.




Register now to take advantage of our Early Registration Discount! Available until January 26, 2018




Course: AERMOD (Feb 26-27, 2018)
Course: CALPUFF (Feb 28 - Mar 1, 2018)
Location: Toronto, Ontario
Contact: training@webLakes.com
Registration: Online Registration
Just Announced! AERMOD Course in London, UK – April 23 - 24, 2018
Lakes Environmental will return to London for a 2-day AERMOD course from April 23 to 24, 2018.
Further information will be posted in the Upcoming Courses section of our website soon. Be sure to register early to take advantage our Early Registration Discount!




Early Registration Discount Ends: Mar 23, 2018




Course: AERMOD (Apr 23-24, 2018)
Location: London, UK
Contact: training@webLakes.com
Registration: Coming Soon
A&WMA "Guideline on Air Quality Models: The Changes" Conference Wrap-Up
Last month was the Air & Waste Management Association Specialty Conference "Guideline on Air Quality Models: The Changes" sponsored by the A&WMA Technical Coordinating Committee for Atmospheric Modeling and Meteorology (APM). The conference was held November 14-16, 2017 at the Sheraton Chapel Hill Hotel in Chapel Hill, NC. Over 100 people attended, and we enjoyed meeting many of the attendees!
Over 30 presentations were given with topics covering applications and issues of the AERMOD air dispersion modeling system, aerodynamic downwash issues, meteorological data processing, modeling of secondary formation of pollutants, and more.




The conference also featured an opening plenary session with staff from the U.S. Environmental Protection Agency, Office of Air Quality Planning and Standards who offered updates to current rulemaking currently taking place in the United States.
Missed us at this conference? Look for Lakes Environmental at other upcoming events such as the A&WMA Annual Conference and Exhibition taking place June 25-28, 2018 in Hartford, Connecticut!
Upcoming Courses
Date

Course

Location

Registration

Feb 5-6, 2018
Feb 7-9, 2018

Feb 26-27, 2018
Feb 28 - Mar 1, 2018

Apr 23-24, 2018

London, UK

Registration
Coming Soon

May 14-15, 2018

Sydney, Australia*

May 16-17, 2018

Sydney, Australia*

Jul 16-17, 2018
Jul 18-19, 2018

Gauteng, South Africa**

Registration
Coming Soon

Nov 26-28, 2018

São Paulo, Brazil

Registration
Coming Soon
*Sponsored by NACA
**Sponsored by CASANZ
For more information on the above courses, including registration information, location, and course outlines, please visit our web site: https://www.weblakes.com/courses.html.
Modeling Tip
Working with the Plots Tab in AERMOD View
In a previous modeling tip, we provided an overview on working with layers within Lakes Environmental Software products. In the popular AERMOD View application, another tab is Plots which lists all available contour plot output files.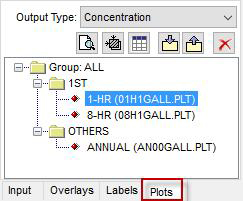 Plots Tree View
The Plots tab contains several functions to assist users in visualizing and analyzing data.
View as Text opens the selected Plot file in the system's default text editor. Note that you can change the default editor via the Preferences menu.
Zoom to Plot File is the newest feature available in the Plots Tree View. This button quickly zooms to the full extents of the selected Plot file. This allows the user to easily zoom in or out to the plot's extents without having to switch to the Overlays tab.
View as Grid opens the selected Plot file in the Plot File Grid View window. As discussed in a previous modeling tip, this feature creates a full tabular view of the Plot file data and allows for exporting to Excel.
Import Plot File / Export to CSV provides modelers with the means to quickly import existing Plot files or export selected Plot files to CSV format for further analysis.
Delete Selected removes the selected Plot file or files from the drawing area. The Plot file is deleted from the project entirely. To delete multiple files, hold the Ctrl key while selecting the plots to be removed.
You can also right-click with the mouse on any of the Plot files in the tab to display a context menu with the following options:
Delete Results – To delete the selected file from the project
View Results – To open the Plot File Grid View
Save As – To save the selected Plot file under a different name and/or location
Select All in Group – To select multiple Plot files within a single folder
Select All – To select all Plot files in a project
Unselect All – To unselect any selected Plot files
Selecting multiple Plot files in the tab via the Ctrl key also allows users to apply one set of Graphical Options to multiple files at once. This can save valuable time when making edits to a project.
Submit Your Modeling Tips Today!
We are currently accepting submissions for the Monthly Modeling Tip section that appears in our newsletters. If you have a modeling tip that may benefit our readers, please send it to us at support@webLakes.com. Your name and the name of your organization will appear below the tip providing you with an opportunity for increased exposure.
Articles
Air Pollution Wipes Out Benefits of Exercise, Study Warns
December 6, 2017 - Traffic pollution poses health risks for older people and unborn babies according to two separate studies published today.
Research in the journal The Lancet has found that the dose of air pollution older people received when taking a two hour walk in a congested city street stiffens the arteries and impaired lung function.
Walking is the sort of low impact exercise recommended by the NHS for older people to improve their cardiovascular fitness, but the study found that the impact of air pollution negated this.
Why Air Pollution in the US Will Likely Never Reach India's Extreme Levels
November 30, 2017 - The toxic smog looming over India, more specifically over the nation's capital, New Delhi, poses numerous health and environmental threats. The dangerous conditions have sparked political unrest among citizens, who hope to find a solution.
In New Delhi, air quality has peaked well off the charts for several days at a time, even for over a week, at an Air Quality Index (AQI) significantly over 500. The highest category is listed as "hazardous" at 301-500.
Nebraska Approves Keystone XL, But Requires Different Route Through State
November 20, 2017 - Nebraska regulators have given the final approval for the Keystone XL pipeline to run through their state, eliminating the last major regulatory obstacle preventing the completion of the 1,179-mile pipeline system that would help carry tar sands oil from Alberta, Canada to refineries in Texas.
The Nebraska Public Service Commission (PSC) voted 3-2 today to allow the pipeline, though it said the company behind the project, TransCanada, had to find an alternative route that traversed less environmentally sensitive areas of the state. The decision comes just days after another pipeline run by TransCanada, the Keystone, leaked 210,000 gallons of oil on grasslands in South Dakota.
Lack of Action and Strict Regulation Prolongs India's Poisonous Smog
November 20, 2017 - Every year the same poisonous fumes descend on Delhi and the National Capital Region as winter arrives. While this is an annual phenomenon, federal and state governments have consistently failed to take the measures needed to combat bad pollution. As a result, the Air Quality Index (AQI) over northern India continues to remain hazardous and pose a significant health risk to citizens.
At the end of the Kharif (monsoon crop) season, farmers growing paddy have a very short period of time between harvesting paddy and cultivating wheat. Removing the paddy and wheat stalk that remains in their fields is labor-intensive, time-consuming and expensive. So, most farmers choose the easy option of burning the stubble despite directions not to do this by the Supreme Court and the National Green Tribunal.
European Air Quality Index: Current Air Quality Information at your Finger Tips
November 16, 2017 - A new European Air Quality Index, launched today by the European Environment Agency (EEA) and the European Commission, allows users to check the current air quality across Europe's cities and regions. The Index is accompanied by new country fact sheets that provide updated air quality information for EEA member countries.
The EEA and the European Commission's new online service, the European Air Quality Index, provides information on the current air quality situation based on measurements from more than 2 000 air quality monitoring stations across Europe.
Virginia State Air Pollution Control Board Approves Draft Rule That Would Regulate Power Plant Carbon Emissions
November 16, 2017 - The Virginia State Air Pollution Control Board on Thursday unanimously approved a draft regulation to cut carbon dioxide emissions from power plants and link Virginia to a carbon-trading network of nine other states.
The draft rule was the product of months of study by an advisory group of industry, environmental and government representatives convened in 2016 by Gov. Terry McAuliffe and a string of meetings earlier this year by a regulatory panel who worked with the state Department of Environmental Quality to hammer out the regulation.
For additional environmental news, visit the Environmental News Network (ENN), the most dependable
online environmental news source!

Upcoming Conferences & Trade Shows
Jan 4-6, 2018

IAFOR International Conference on Sustainability, Energy & the Environment
More Info

Honolulu, HI, USA

Jan 7-11, 2018

American Meteorological Society (AMS) 98th Annual Meeting
More Info

Austin, TX, USA

Jan 15-18, 2018

World Future Energy Summit
More Info

Abu Dhabi, UAE

Feb 7-9, 2018

2018 9th International Conference on Environmental Science and Development (ICESD 2018)
More Info

Paris, France

Feb 26 - Mar 2, 2018

2nd Pan-GASS Meeting - Understanding and Modelling Atmospheric Processes
More Info

Lorne, VIC, Australia

Mar 5-7, 2018

Energy, Utility & Environment Conference (EUEC) 2018
More Info

San Diego, CA, USA

Mar 14-16, 2018

GLOBE Leadership Summit for Sustainable Business and Innovation Expo
More Info

Vancouver, CA, Canada

May 8-10, 2018

Canadian Environmental Conference and Tradeshow (CANECT) 2018
More Info

Vaughan, ON, Canada

May 15-16, 2018

Texas Commission on Environmental Quality Environmental Trade Fair & Conference
More Info
Lakes Environmental will be at booth #1242


Austin, TX, USA

Jun 25-28, 2018

111th Air & Waste Management Association's Annual Conference & Exhibition (ACE)
More Info
Lakes Environmental will be at booth #100

Hartford, CT, USA
About this Newsletter
This newsletter contains information gleaned from various sources on the web, with complete links to the sources cited. Organizations cited are in no way affiliated with Lakes Environmental Software.
Lakes Environmental Software is a leading environmental IT company that offers a complete line of air dispersion modeling, risk assessment, emissions inventory, and emergency release software as well as training and custom software services. With satisfied users located around the globe, Lakes Environmental Software will continue to revolutionize the environmental software field.
For more information please visit our web site at: www.webLakes.com. You may also contact us by phone at (519) 746-5995.
All comments and suggestions are welcome. You can e-mail us at: support@webLakes.com.