Lakes Environmental e-Newsletter
Emissions, Air Pollution, GIS and Risk Assessment


In This Issue:
News & Events
Upcoming Courses
Modeling Tip - Near Structures in BPIP
EPA Strengthens Air Quality Standard for Nitrogen Dioxide
Canada Lists Emissions Target under the Copenhagen Accord
Climate change: European Union notifies EU emission reduction targets following Copenhagen Accord
NSR Settlement Means BACT for Big Industry
Upcoming Conferences & Trade Shows
News & Events
Just Announced! Lakes Environmental CALPUFF Course in Dallas, Texas
To meet the increasing demand for CALPUFF courses, Lakes Environmental will offer a 3-day CALPUFF course in Dallas, Texas from April 21-23. This immediately follows the scheduled AERMOD course taking place April 19-20.

If you are interested in attending the Dallas air dispersion modeling courses, contact us at training@weblakes.com or check the Upcoming Courses section on our website to register.
Lakes Environmental Releases AUSTAL View™ Version 6.3
Lakes Environmental is pleased to announce the release of AUSTAL View Version 6.3 on February 5, 2010. AUSTAL View is the most popular graphical user interface for the world's most powerful Lagrangian Particle Tracking Air Dispersion Model. This model was developed by the German Federal Environmental Agency and is designed to perform advanced odor modeling and protect the general public and neighborhoods against the potentially harmful effects of air pollution.

With this latest version of AUSTAL View come several new pwerful features including: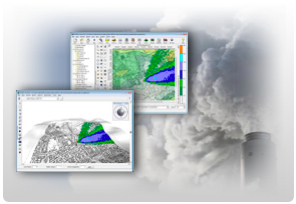 Now Microsoft® Vista and Windows 7 Compatible


A new Wind Rose tool is now available under the Annotation Toolbar for projects with a wind field library


New!  User-Defined Building Colors and Shade Styles

For a complete list of the improvements and new features now available in AUSTAL View Version 6.3,please see our latest release notes and watch our new video!

If you are currently in maintenance for AUSTAL View and did not receive an email regarding this update, please contact us at support@weblakes.com.
Newsletter Survey – Your Opinion Counts!
As a subscriber to Lakes Environmental's monthly eNewsletter, we would like your feedback. We understand that in today's world you are constantly inundated with information delivered via e-mail. In an effort to continue providing the information you need and in the format and level of detail that delivers the greatest benefit, we are soliciting your input. We are committed to ensuring that our monthly newsletter is meeting your needs as an environmental professional.

We would ask you to please fill out this short survey to enable us to determine where our monthly publication is doing well and where we can improve.

Your participation will help Lakes Environmental ensure you are receiving only the most relevant information. All comments and suggestions are welcomed and appreciated.
Just for completing this survey, you will be entered for a chance to WIN a 10% discount off the purchase of one of our Air Dispersion Modeling software packages.
The survey can be completed here.
Product Spotlight - CALPUFF Courses
The Lakes Environmental CALPUFF course is intended for air quality professionals who require practical knowledge of advanced puff-based air dispersion modeling approaches and techniques. This course builds upon essential ADM concepts with a focus on how advanced modeling techniques can be used to produce accurate results at small and large scales or in regions of immense complexity.
As with our popular AERMOD course, this course not only emphasizes the importance of CALPUFF's theoretical application, but also its practical hands-on functionality.
At the end of the course the attendee will be able to use the appropriate model necessary for a variety of regulatory applications, efficiently using the model at-hand. Students will work on case studies using Lakes Environmental's CALPUFF View software throughout the course giving "real world" applicability to atmospheric dispersion theory.
Each student will leave the course will a course CD including FREE downloads for Screen View, WRPLOT View, and Percent View.  Also included are course files for case studies as well as links to key modeling resources.
CALPUFF Course attendees are eligible to receive a 10% discount on the purchase of our popular CALPUFF View software. 
For more detailed information on our CALPUFF course and upcoming training schedule please visit the Upcoming Courses section on our website.
Outline
|
Testimonials
|
FAQs
Upcoming Courses
Date

Course

Location

Registration

Feb 22-23, 2010

Mar 15-16, 2010
Mar 17-19, 2010

Apr 19-20, 2010
Apr 21-23, 2010

May 10-11, 2010

May 12-14, 2010
For more information on the above courses, including registration information, location, and course outlines, please visit our web site: https://www.weblakes.com/courses.html.
Modeling Tip
Near Structures in BPIP
BPIP, the Building Profile Input Program, is the building downwash processor for AERMOD and other models. When two buildings are processed in BPIP that are sufficiently close, they may be joined together for the purposes of calculating the building wake. It is important to understand how this can happen, as it can affect modeling results.
Buildings closer than L
If two buildings are separated by less than the greater of the two buildings L values, then the buildings will be joined together using a Gap Filling Structure (GFS).  L is defined as the lesser of the building height, and the projected building width (cross sectional width of the building from the current wind direction).
The Gap Filling Structure
The GFS is a structure with height equal to the shorter of the two buildings and connecting the buildings in one or both of the following ways:
Corner to corner
Corner to perpendicular side
Each of these connections must be less than the greater of the two buildings L values.
The images below illustrate some of the possible GFS configurations.  Buildings closer than L are combined by the blue lines, and by the red lines if they are also less than L.
For further details, please refer to the BPIP User's Guide.
Submit Your Modeling Tip Today!
We are currently accepting submissions for the Monthly Modeling Tip that appears in our newsletters. If you have a modeling tip that may benefit our readers, please send it to us at support@weblakes.com. Your name and the name of your organization will appear below the tip providing you with an opportunity for greater exposure.
Articles
EPA Strengthens Air Quality Standard For Nitrogen Dioxide
WASHINGTON - The U.S. Environmental Protection Agency today announced a new national air quality standard for nitrogen dioxide (NO2). This new one-hour standard will protect millions of Americans from peak short-term exposures, which primarily occur near major roads. Short-term exposures to NO2 have been linked to impaired lung function and increased respiratory infections, especially in people with asthma.
"This new one-hour standard is designed to protect the air we breathe and reduce health threats for millions of Americans. For the first time ever, we are working to prevent short-term exposures in high risk NO2 zones like urban communities and areas near roadways," said EPA Administrator Lisa P. Jackson. "Improving air quality is a top priority for this EPA. We're moving into the clean, sustainable economy of the 21st century, defined by expanded innovation, stronger pollution standards and healthier communities."

Please read the U.S. EPA's fact sheet for more information regarding this new standard.
Read Full Article Here
Canada Lists Emissions Target Under The Copenhagen Accord
CALGARY, ALTA. (Feb. 1, 2010) - Canada's Environment Minister, the Honourable Jim Prentice, announced on Saturday, January 30, 2010, the submission of Canada's 2020 emissions reduction target under the Copenhagen Accord. Canada's target, a 17 per cent reduction from 2005 levels, is completely aligned with the U.S. target, and is subject to adjustment to remain consistent. Canada's target is contingent on all major emitters associating with the Accord.

"This Government will act on the Copenhagen Accord because it is consistent with Canada's stated position on climate change and because it moves us closer to our ultimate goal of becoming a clean energy superpower," said Minister Prentice in a speech today in Calgary. "We took our first step down that road on Sunday, January 31, 2010."
Read Full Article Here
Climate Change: European Union Notifies EU Emission Reduction Targets Following Copenhagen Accord
The European Union has today formalised its support for the Copenhagen Accord on climate change and presented its commitments for emission reduction targets. In a joint letter with the Spanish Presidency of the Council, the European Commission has formally notified the EU's willingness to be associated with the Accord and submitted for information the EU's established greenhouse gas emissions reduction targets for 2020. These consist of a unilateral commitment to reduce the EU's overall emissions by 20% of 1990 levels and a conditional offer to increase this cut to 30% provided that other major emitters agree to take on their fair share of a global reduction effort. Under the Accord, notifications are to be submitted by 31 January 2010.

Commission President José Manuel Barroso said: " The EU is determined to move ahead rapidly with implementing the Copenhagen Accord in order to make progress towards the agreement that we need to hold global warming below 2°C The Accord provides a basis on which to build this future agreement and I therefore urge all countries to associate themselves with it and notify ambitious emission targets or actions for inclusion as we are doing."
Read Full Article Here
NSR Settlement Means BACT For Big Industry
The EPA's compliance arm filed two major New Source Review (NSR) settlements on Thursday, Jan. 21, 2010, that will force 28 plants across the country to update their air pollution control systems to current best-available control technology (BACT).

The settlements cover 15 U.S. plants owned by Saint-Gobain Containers Inc., Muncie, Ind., the nation's second largest container glass manufacturer, and all 13 U.S. plants owned by the Lafarge Co., Herndon, Va., and two subsidiaries, the nation's second largest manufacturer of Portland cement. These settlements are the first system-wide settlements for these sectors under the Clean Air Act and require pollution control upgrades, acceptance of enforceable emission limits and payment of civil penalties.
Read Full Article Here
Upcoming Conferences & Trade Shows
Date

Conference

Location

Feb. 23-25, 2010

Renewable Energy World Conference & Expo North America
More Info

Austin, TX, USA

Feb. 26-28, 2010

The 2010 International Conference on Environmental Science and Development (CESD 2010)
More Info

Singapore

Mar. 7-9, 2010

Gulf Environment Forum
More Info

Jeddah, Saudi Arabia

Mar. 21-24, 2010

WEF/A&WMA Odors and Air Pollutants 2010
More Info

Charlotte, NC, USA

Mar. 24-26, 2010

GLOBE 2010
More Info

Vancouver, BC, Canada

Apr. 12-16, 2010

Energy & Environment Week
More Info

Pittsburgh, PA, USA

Apr. 28-29, 2010

32nd Motorship Propulsions and Emissions Conference
More Info

Hamburg, Germany

May 3-4, 2010

2010 Canadian Environmental Conference and Tradeshow (CANECT 2010) - NEW location at the International Centre in Mississauga! Lakes Environmental will be at booth 1704!
More Info

Mississauga, Ontario, Canada

May 10-14, 2010

A&WMA International Specialty Conference: Leapfrogging Opportunities for Air Quality Improvement
More Info

Xi'an, China

Jun. 22-25, 2010

A&WMA 103rd Annual Conference and Exhibition
More Info- Lakes Environmental will be at booth 701!

Calgary, Alberta, Canada
About this Newsletter
This newsletter contains information gleaned from various sources on the web, with complete links to the sources cited. Organizations cited are in no way affiliated with Lakes Environmental Software.
Lakes Environmental Software is a leading environmental IT company that offers a complete line of air dispersion modeling, risk assessment, emissions inventory, and emergency release software as well as training and custom software services. With satisfied users located around the globe, Lakes Environmental Software will continue to revolutionize the environmental software field.
For more information please visit our web site at: www.weblakes.com. You may also contact us by phone at (519) 746-5995 or by fax at (519) 746-0793.
All comments and suggestions are welcome. You can e-mail us at: support@weblakes.com.
Please click the link below to subscribe or unsubscribe from this newsletter:
Subscribe/Unsubscribe