FETS Web™
Compliance Assurance Monitoring Model
FETS Web Overview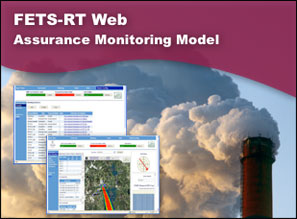 FETS Web is a real-time web-based program which can demonstrate the correlation between pollutant emissions from industrial processes and their impact concentrations.
FETS Web performs continuous air dispersion modeling runs to project the most probable outcomes for a collection of user-defined operating scenarios. This involves using forecast meteorology data and real-time data from monitoring stations as input to an air dispersion model which calculates the expected concentrations of a pollutant based on source parameters and emission properties.
FETS Web meets and surpasses compliance certification requirements of the Part 70 Operating Permits Program and Title VII of the 1990 Clean Air Act Amendments. Most facilities have a monitoring station that can cost roughly 80,000 per year to operate. Stations usually miss the emissions that pass it and once it actually registers a hit, it becomes a painstaking process to determine the origins of the pollutant. FETS Web saves on monitoring station operating costs and provides precise results about emissions from your facility.
Which Source Impacted the Monitor Station? Who is Responsible?
Avoid these questions with FETS Web. FETS Web enables you to accurately determine attribution and accountability without hesitation.
FETS Web is a highly customizable software package that can be adapted to the specific needs of your organization. This system uses your site's emissions sources, monitors, emission information, and other site details. Our graphical interface can be tailored to include displays that suit whatever requirements you might have for control room operators, engineers, modeling specialists, or other users.